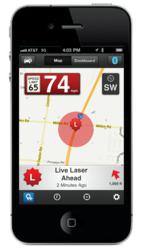 We are extremely excited to be chosen by SEMA, Popular Mechanics and now these influential and respected journalists from around the world
West Chester, OH (PRWEB) November 08, 2011
ESCORT Inc., the leading manufacturer of premium automotive electronic accessories and maker of the world's best radar and laser detectors, held the world-wide release of its patented ESCORT Live™ Ticket Protection Network, the revolutionary radar and laser ticket protection network, at the 2011 Specialty Equipment Manufacturer's Association (SEMA) show in Las Vegas last week. During the course of the show, ESCORT Live™ was awarded three significant awards including 'Best New Product' SEMA Show, Popular Mechanics 'Editor's Choice' Award for Best New Product and a 2011 SEMA Show 'Global Media Winner'. The new ESCORT Live™ technology has been dominating show coverage for the mobile electronics category.
ESCORT Live™ won the 2011 SEMA Global Media Award, which honors products based on their potential impact and commercial success, upon review of its success and show publicity during the week long event. The show week began with ESCORT Live™ being named 'Best New Product' within the mobile electronics category, followed on the day with the announcement by Popular Mechanics, from the SEMA Show, the they had decalred ESCORT Live™ one of their selected Editor's Choice, Best New Product winner in addition to the earlier, major announcement by SEMA. Nearly 2,000 vendors and manufacturers submitted more than several thousand new products at the event. For the Global Media Award, a judging panel of 26 journalists from 16 countries chose a select few products including the new ESCORT Live™. "We are extremely excited to be chosen by SEMA, Popular Mechanics and now these influential and respected journalists from around the world," said John Larson, ESCORT President and CEO. "There is nothing else in the world that offers safety and threat protection like our new ESCORT Live™ technology. We believe – and the experts and the media are confirming this – that ESCORT Live™ is the ultimate social driving network."
"The entire ESCORT team is honored to receive these three awards for our history of industry-leading premium automotive accessories," said ESCORT Vice President of Marketing Dave Smidebush. "This is one more award that demonstrates just how truly revolutionary our new ESCORT Live™ network is and how, as a social network for the road, will help drivers to drive smarter."
ESCORT Live™ delivers revolutionary radar and laser ticket protection by using real-time, cloud-based threat and information sharing among millions of drivers just like you.
Imagine you are driving to work or school, or in an unfamiliar area, where ticketing threats prowl, especially those out of visible range. What if you could track oncoming threats, or know where mobile ticketing vans are miles before they see you? ESCORT Live™, uses the eyes and alerts of 'scout' drivers connected with their smartphone ESCORT Live™ app to help you accurately know where ticket threats are … even before you leave your parking lot!
The result is social networking for the road – ESCORT Live™ allows you to know sooner, react faster, share important information and help you Drive Smarter.
ESCORT Live™ works with ESCORT's class leading windshield mount radar detectors (and BELTRONICS Pro Series radar detectors) by simply replacing the power cord with ESCORT's new Bluetooth enabled SmartCord Live power cord and the free ESCORT Live app downloaded to your smartphone (iPhone 3GS and 4, OS 4.1, and Droid OS 2.2 or later). When combined, ESCORT Live™ delivers the world's most advanced real time radar and laser ticket protection.
ESCORT Live™ includes ESCORT's test winning Defender Database which provides the most accurate speed camera, red light camera and speed trap information, alerting you in advance so that you can safely navigate high threat locations. Also, ESCORT Live™ includes ESCORT's patented GPS features including Truelock which uses the power of location awareness and the ESCORT Live™ network to let you identify and then permanently lock out known false alert sources. ESCORT Live™ also provides drivers with the posted speed limit, their driving speed and even alerts when the speed limit changes.
The key to the ESCORT Live™ community is real-time national reach and scale, and the fact that it is ready to work with more than one million current ESCORT and BELTRONICS models in use today. Multiply this data gathering and sharing process by millions of miles and driving hours and the result is a nation of protected ESCORT Live™ drivers.
"Following an ESCORT Live™ driver yields excellent information about what lies ahead because the first vehicle's alerts are seamlessly transmitted to other cars equipped with the ESCORT Live app," says Larson.
"Our radar detector products have always provided drivers with the highest level of ticket protection in the marketplace," Larson added. "Now, with ESCORT Live, ESCORT drivers don't need to be in the range of the threat, they just need to be in the network."
About ESCORT, Inc.
ESCORT Inc. is the leading manufacturer of high-performance radar/laser detectors and premium automotive accessories and owns more than 85% of active category patents. ESCORT manufactures products under the ESCORT, PASSPORT, REDLINE, SOLO, Vector and BELTRONICS brands. The company is headquartered in West Chester, Ohio, with its principal manufacturing facility located in Mississauga, Ontario, Canada. Visit ESCORTinc.com or call 1.888.265.9391
Editorial Contact:
Ron Gividen
513-870-8500
# # #