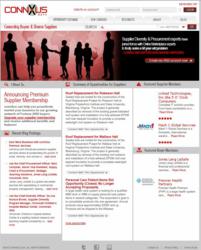 connXus has the potential to make a major impact on economic empowerment for small, woman- and minority-owned businesses.
Cincinnati, Ohio (PRWEB) November 08, 2011
connXus.com, a revolutionary online service that helps corporations locate, evaluate and engage small, woman- and minority-owned businesses, has received seed funding from a group of angel investors including John E. Pepper, Jr., former CEO and Chairman of the Board for The Procter & Gamble Company.
"connXus.com makes it easy for corporations to find and hire diverse suppliers, and for diverse suppliers to bid on actual contracts and grow their businesses," said Pepper. "I believe connXus has the potential to make a major impact on economic empowerment for small, woman- and minority-owned businesses. It's truly a great idea whose time has come."
connXus.com launched in December 2010, and since then, corporate buyer members have posted more than $75 million in contract opportunities for diverse supplier members on the site. Registered connXus members number close to 1,000, including small, woman- and minority-owned businesses representing hundreds of categories and corporate buyers responsible for more than $20 billion in annual spending.
"This early round of funding allows us to continue to improve the site and extend our marketing," said connXus.com Founder Rod Robinson, a Fortune 1000 procurement expert and supplier diversity consultant. "Every week, we see our membership grow as small, minority- and woman-owned businesses discover the millions of dollars in access to real business opportunities connXus membership provides. Every week, more large companies join connXus because we make it easier for their procurement professionals to find diverse suppliers. Ultimately, we hope to expand our services even further, to better serve that growing community of members and to help grow the overall economy."
Created by Robinson and serial internet entrepreneur Chris Downie, connXus.com revolutionizes supplier diversity by actively matching buyers with performance-rated diverse suppliers. Basic memberships are free. Corporations register as buyer members and indicate in which of the more than 100 product or service categories they have purchasing needs. Buyer members can conduct searches for specific suppliers or post contract opportunities for suppliers to submit bids. Small, minority- or woman-owned businesses register for free as supplier members, indicating the product or service categories they provide, as well as creating a company profile highlighting their size, areas of expertise and representative customers. connXus supplier members request performance ratings from prior customers, with more and better ratings resulting in higher placement in search results, just like many consumer-focused websites.
The connXus.com Board of Advisors includes: Pepper; Patrick Pohlen, a partner of Latham & Watkins LLP's Silicon Valley office; Jorge Plasencia, chairman and CEO of agency República; Josh Knepfle, chief technology officer of America's leading diet and fitness website, Sparkpeople.com; Dave Heilmann, chief operating officer of Sparkpeople.com; and Carl Satterwhite, president and CEO of one of Cincinnati's largest minority-owned businesses, River City Furniture.
For more information, go to http://www.connxus.com.
###