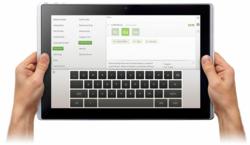 There's massive potential in equipping owners and managers with real-time insights about who is in their store, what customers are saying and what they're buying
San Francisco, CA (PRWEB) November 08, 2011
Own, the point of sale technology company, today announced a $1.2 million seed round led by Detroit Venture Partners. The funding will drive product development and hiring for the tablet and retail technology industry's most sought after start-up. Own also relocated its corporate headquarters to San Francisco to support partnership integrations, rapid retailer demand, and investor interest. With the help of its investors, the company plans to rapidly expand their sales and customer service team in Detroit.
To support its growth, Own is also announcing additions to its Advisory Board and Board of Directors. Its Advisory Board now includes Shail Arora (Vineyard Capital), Raul Vejar (Head of Corporate Strategy, SAP) and Nik Harris (Head of Integration, North America, InMobi), in addition to Own's first advisor Peter Chane (Director of Business Development, Google Chrome OS) and Scott Crosby (Co-Founder, Google Analytics). The company also added Bob Stefanski (Co-Founder, Tibco) to its Board of Directors alongside Jake Cohen (Detroit Venture Partners).
Single or multi-location shops can connect with Own's point of sale web-based cash register and credit card reader, ringing up sales on the tablet touch screen using customized menus. Shop owners and managers can then access their tailored dashboard from anywhere to track, store, and analyze sales information. Own displays real-time Facebook, Twitter, and Foursquare updates on the retailer's screen, enabling them to interact, connect, and reward customers through a personalized information experience.
"Own is like no other point of sale on the market – the Own Tablet provides a platform for Web services to integrate within point of sale. This integration empowers the small business owner by delivering consumer information and analytics, and provides features to increase sales, including mobile payments, daily deals, social media and many others," said Jacob Cohen, SVP at Detroit Venture Partners. "There is a staggering variety of Web-based businesses that can benefit from smart integration with the small business POS."
"Point of sale systems have under-served retailers because, until now, they've simply been glorified cash registers. There's massive potential in equipping these owners and managers with real-time insights about who is in their store, what customers are saying and what they're buying," says Rajeev Viswanathan, CEO of Own.
Features:

Instant Analytics and Multi-Store Management: Own provides retailers direct access to sales data and reports in its real-time dashboard called Up. Owners can see sales trends by location on any internet-enabled device. Retailers with more than one location can manage an entire operation as easily as a single store through intelligent menu grouping. Retailers can set prices, distribute coupons, and change menus through Up on their favorite device. Changes are synced seamlessly to all the Own tablets at their stores, so every location runs the latest.
Data Export: Own streamlines the accounting and reporting process by exporting sales and operational data for Quickbooks and Excel. Its multi-user services allow multiple staff members to share and access the data.
Social Media Integration: Own enhances retailers' social media engagement by providing real-time Facebook, Twitter, and Foursquare updates directly in the system, allowing retailers to interact with their most active social media followers inside and outside of their store, while tracking relevant conversation for out-of-store social media engagement.
Other Own investors include Vinyard Capital, Compuware Ventures, C Ventures, Ludlow Ventures, and Bluewater Angels. For more information about using Own for free in your store, visit http://www.ownpointofsale.com/try.
About Own Point of Sale
Own Point of Sale Corporation is a provider of the world's first social point of sale system that runs entirely on a tablet. Own has introduced the world to New Retail through its revolutionary platform for retail and point of sale. The Company started in 2009 when restaurant owner Verdi Ergün was frustrated by his point of sale system at the Burrito Joint in Ann Arbor, Michigan. Own Point of Sale is used by businesses across the United States and Canada, with offices in San Francisco and Detroit.
###