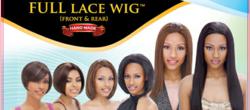 (PRWEB) November 09, 2011
HairStopandShop.com is an online retailer of lace front wigs, whole lace wigs and full lace wigs. What differentiates this retailer from others is that it aims to inform customers about hair care and application of lace wigs, which is essential to the satisfaction of the end consumer.
Lace wigs, whether front lace, full lace or whole lace, can be applied using several different techniques. The most common options are using wig adhesive or using special double-sided tape. Before going into the application process, make sure to have the forehead area clean of any lotions or make up and to have the lace on the unit trimmed according to one's hairline shape.

Start by applying the adhesive directly on the area of one's forehead where the bonding will take place. Do not apply glue on client's hair directly. You may use a stocking cap upon which the glue can be applied. Let the glue set for 5 seconds, then carefully align the edges of the lace unit so that the glue is left behind the lace outlines. Press down lace netting onto the glue and make sure there are no creases.
It is recommended to use medium size tape; usually three to four strips are sufficient. Peel one side of the tape and place on the area where the bonding will take place. Then, peel the top facing side of the tape and carefully place the unit over the tape. The front lace should cover the adhesive tape but should not protrude to far down on forehead, as to look unnatural. Then, press down on the lace netting and viola.
After the bonding is complete, one can apply make up to blend the lace front edges to the skin tone. Using glue or double-sided tape for application of lace wigs is preferred by customers with very active routines that usually involve, exercising or dancing. If one wishes to take off their unit every night before bed, alternative application with bobby pins is recommended. For more details make sure to visit the Tutorial page on http://www.hairstopandshop.com.
###