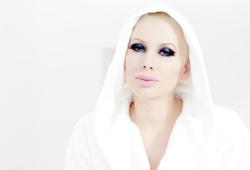 No Limit Forever Makes History By Signing The First Romanian Artist To Record Deal in America
Hollywood, CA (PRWEB) November 08, 2011
No Limit Forever Records inks deal with Romania Superstar Catalina Toma.
Catalina's meteoric return to her staple pop and R&B flavor will bring added international spice with her upcoming studio album as a part of the No Limit Forever family. She is the first Romanian musician to be signed by an American record label no less with an intended market drive right in America. No limit and Catalina have formed a hot power team and will launch the new project in the American and global marketplace.
Master P says, "Signing Catalina was a no-brainer. She's one of the most talented Pop and R&B vocalists in the world." She has already been compared to the likes of Lady GaGa, Mariah Carey, and Rihanna.
The talented, beautiful, and driven, Catalina has proven herself by going beyond her own personal goals and defying the odds for an up and coming artist. Her first foray into the music industry was upon her graduation from music school in her native Romania near the top of her class. She would follow up graduation with music festivals and a plethora of competitive events and contests around and the region. Along the way she improved her stage presence and versatility and walked away with first place honors at nearly each venue. With such growing acclaim it is no wonder that local, renowned artists in the Romanian music industry and Eastern European circles became points for collaboration with a steady stream of growing label interest. One of the hit songs featured her alongside BUG Mafia titled "Never-ending Story." Catalina quickly became one of the most recognizable faces in Romania.
President of No Limit Forever Records, Romeo says, "Catalina is a diamond in the rough. And she's the missing piece to the puzzle for No Limit Forever Records taking over the crossover markets."
Catalina is undoubtedly a milestone in the Romanian and Eastern European music industry; a trendsetter that will continue to be relevant. This time, however, she is part of a new genesis to break the boundaries of expectations in her native Europe and abroad making her music and her voice known around the world!
http://www.facebook.com/pages/Catalina-Toma/42860196405
http://www.reverbnation.com/catalinatoma
http://twitter.com/Catalinatoma
http://www.nolimitforeverrecords.com
# # #