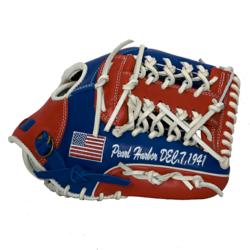 This baseball glove is dedicated to all the men and women who were affected by the events of December 7,1941.
Richmond, VA (PRWEB) November 09, 2011
Vinci, makers of high quality baseball gloves and equipment, will be giving away two exclusive Pearl Harbor 70th Anniversary baseball gloves. The event will last until December 3, 2011. The free raffle is designed to commemorate the 70th anniversary of the Japanese attack on Pearl Harbor.
The attack by the Japanese on Pearl Harbor, Hawaii, took place on December 7th 1941. The attack was called a "day of infamy" by President Franklin Delano Roosevelt. It was the event that brought the United States of America into World War Two.
The Pearl Harbor JSJS and AB74 models are red, white and blue with the Pearl Harbor date and American flag embroidered on them. Vinci will raffle one of each glove and send one of each to the Pearl Harbor Museum in Hawaii.
To enter the raffle, entrants must send their name, address, and phone number to teamvinci(at)aol(dot)com. Entries must be received by December 3, 2011. The winners will be announced December 7, to commemorate that day.
The commemorative gloves are in tribute to Benjamin Vinci, who was stationed at Pearl Harbor during the attack that led to America's entry into World War 2.
"Rather than selling this model glove I thought it a fitting tribute to my father's memory," says Pete Vinci, owner of Vinci and son of Benjamin Vinci. "This baseball glove is dedicated to all the men and women who were affected by the events of December 7,1941."
Benjamin Vinci was only days away from receiving a promotion up to a Sergeant rank when the Japanese planes plunged through the skies above, with their bullets ripping through the troops on the ground. While running back to his post, the young soldier was struck in the right side by a bullet from the Japanese warplane flying above him. Benjamin didn't even realize he had been shot until he reached his post. Despite his injuries, he continued to shoot at the enemy.
Doctors performed surgery to remove the bullet. However, they were unable to get it out. The bullet remained lodged in Benjamin's body for the rest of his life. It was a constant reminder that over twenty three hundred lives were lost on December 7, 1941. He was one of the "lucky ones" who was wounded, yet still lived to tell the story.
Benjamin eventually became the commander of the Port Chester, NY DAV (Disabled American Veterans), in which he was very proud. Benjamin was also a member of many other organizations including the Catholic War Veterans, Veterans of Foreign Wars, and the American Legion.
"My grandfather would have been very proud of this model glove," says Pete Vinci, grandson of Benjamin Vinci. "Pearl Harbor had a major impact on his life."
For more information about the Vinci Pearl Harbor Glove and to enter the free raffle, visit http://www.vincipro.com/cart/pearl-harbor-commemorative-glove-model-ab74.html
About the Pearl Harbor Memorial
Oahu, Hawaii is home to one of the most visited historical sites in the world, the Pearl Harbor Hawaii Memorial. For more information, visit
http://www.pearlharboroahu.com
About Vinci
Vinci is a family-owned sports equipment company dedicated to quality. For additional information, visit http://www.vincipro.com. More information about Benjamin Vinci can be found at http://www.pearlharborhero.com
# # #