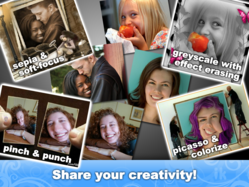 We saw an opportunity to make not only an app that worked great, but was beautiful and a joy to use.
(PRWEB) November 09, 2011
Imikimi photo frames and effects apps have been downloaded 2,273,854 times. Imikimi photo app users have created 44,291,352 personalized graphics. Now that can all be done in stunning HD on the iPad. The new Imikimi HD Photoframes and Effects APP has been completely rethought and redesigned for the iPad.
http://itunes.apple.com/us/app/imikimiHD/id473740131?mt=8
Kimi-Frames resolution had been increased by an extraordinary 4x, making framed photos look amazing. The editor's tool bars have been reworked with a more spacious layout, and the iPad editing window has over 6.5x more screen space for adding photos to Kimi-frames. Editing in all iPad orientations is fully supported, and all the traditional Imikimi app strengths have been preserved and enhanced for the iPad including full-screen editing, multi-photo-frames and seamless multi-touch photo placement.
The new Imikimi photo FX engine shines on the iPad. All effects have been optimized to work with HD Kimi-frames. As with previous Imikimi apps, all effects update in realtime with every change. On the iPad, effect preview-icons are 3x larger and twice as many are visible on screen at a time. The large iPad screen makes erasing portions of an effect precise and easy.
Browsing Imikimi's incomparable library of 2,613,012 original photo frame templates is easier than ever. Many new browse modes have been added. For example, users can browse the newest Kimis by their favorite artists. The expanded iPad screen enables viewing more than a dozen Kimis at once. Comprehensive touch gestures combined with an optimized browsing engine all users to flick through hundreds of Kimi-frames in seconds.
"This is one of the best apps I have ever had... Works great" -Ella M.
"This app is amazing and just what I was looking for, makes all your photos look amazing well worth the money... [...] it's fantastic .." -Wishbot
"The creation of the iPad app was a labor of love for all of us here at Imikimi. We saw an opportunity to make not only an app that worked great, but was beautiful and a joy to use. I think we've succeeded, and I hope we bring a little joy to all of our users," says Shane Brinkman-Dave, Co-Founder and CTO of Imikimi.
About Imikimi:
Imikimi.com is a global online community for sharing creativity where millions of people create, re-mix, and collaborate on digital images in a fun and easy way. Imikimi artists have created 2,613,012 original photo frame templates for every possible use, with hundreds added daily. Photo frames are available for every imaginable purpose, occasion, and taste. With great tools for browsing and searching, it's easy to find the perfect frame for photos of family, friends, kids, and special occasions. Imikimi users have incorporated Kimi art into their own lives by uploading their personal photos and effects into Kimi frames 300-million times.
###