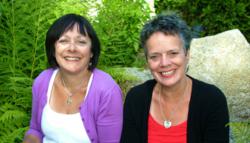 At one time or another every couple has difficulties with their relationship. Couples' therapy gives you the opportunity to resolve problems and conflicts that you have not been able to handle effectively on your own.
Sechelt, British Columbia (PRWEB) November 08, 2011
UK Counseling and Psychotherapy Professionals Jan Paris and Stephanie Pugsley are delighted to announce the opening of offices in Vancouver and the Sunshine Coast, as well as the expansion of their services to include Video Counseling via Skype. The new virtual service removes the factor of geographical proximity, and caters to clients who find traditional settings limiting.
Pacific Counseling offers a range of counseling services to individuals, couples, families and groups. With over 20 years of experience helping people build healthy relationships for fulfilling lives on two continents, the practice brings a unique skill set and global viewpoint to self-growth counselling modalities.
With offices in North and West Vancouver and on BC's Sunshine Coast, and the new Skype Virtual Counseling services, Pacific Counseling brings a solid grounding of experience to assist clients in resolving problems or conflicts, make necessary life changes, and gain insight into relationships. Individual therapy is offered, as well as couples therapy/marriage counseling and group counseling.
Stephanie's background includes training psychotherapists and counsellors at the Masters level for Birmingham University in the UK, and running family centres for women who suffered abuse and domestic violence. Stephanie often works with clients around issues of childhood trauma, and also offers workshops for Social Workers and Family Centre staff on how to work effectively and creatively with victims of abuse.
Jan's long-established private practice in the UK provides the background for her current focus on attachment issues, self-esteem in individuals and its effect on relationships. Jan has also provided de-briefing counseling to police officers, and provided supervision to individual and group trainee and qualified counselors and psychotherapists in private practice and voluntary sector for over 10 years.
Throughout their careers Jan and Stephanie have been committed to providing affordable Counselling and Psychotherapy to people on low incomes. For a full list of services, rates and in-depth biographies visit Pacific Counseling online.
Jan Paris and Stephanie Pugsley are both BCACC registered clinical counsellors and UKCP registered psychotherapists.
###