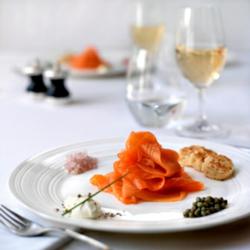 Now in our 10th year of home delivery, Forman & Field is showing what truly sustainable food is. It comes from producers working with traditional methods and natural ingredients to produce quality food.
Brighton, November 2011 (PRWEB UK) 10 November 2011
Highlights on the new menu include Forman's own salmon given a gin and tonic cure, The Ginger Pig's pork sausages, organic and delicious Welsh lamb and chicken from the Rhug Estate, cupcakes in jars from new producer Gillian Boateng that knock the icing off novelty fancies and a new and improved stack of hampers containing things you actually want to eat.
http://www.formanandfield.com has been redesigned to make the whole shopping experience clearer and quicker for customers to use. Find out what a working day at Forman's historic London salmon smokery is like, in the first of a series of videos that will allow customers to get closer to the producers.
Next day delivery
Forman & Field's delivery service has been enhanced to allow next day delivery. All fresh food is still made to order but busy customers can place those orders for 80% of products up to 10am and receive their goods the following morning.
New catalogue
As well as over 300 products from British speciality producers, Forman & Field's 10th annual printed catalogue includes new recipes from Formans Restaurant by Chef Lloyd Hardwick, including 'warm smoked eel salad' and 'East End mess'. Feature articles on producers Emmett's of Peasenhall and Rhug Estate show the spotless provenance of the food. To request your copy email your postal address to mike(at)formanandfield(dot)com.
Founder and Owner Lance Forman said:
"After 106 years of producing smoked salmon and now in our 10th year of home delivery with Forman & Field, we are showing what truly sustainable food is. It comes from producers working with traditional methods and natural ingredients to produce quality food."
Manager Mike Stainthorpe said:
"Our customers expect the best fresh food but busy lives mean they can't always order in advance. With 80% of our range now available to order for guaranteed next day delivery we are able to fulfil those emergency orders and give no excuse to ever need to resort to the supermarket."
CHRISTMAS 2011 ORDER AND DELIVERY DATES
Last orders: Saturday 10th December
Last deliveries: Friday 23rd December
£5 DELIVERY SPECIAL OFFER
Forman's will be launching the new site with a special offer of P&P of just £5 until the end of November, available to all customers ordering online.
The Forman family
Forman & Field shares premises with its sister company, H. Forman and Son, who have been smoking salmon in London's East End since 1905. They supply seasonal British foods by home delivery to private customers all over Britain, many of the world's leading restaurants and hotels as well as traditional food halls, delis and Waitrose stores.
Formans Restaurant first opened to the public at Easter 2009 and serves a modern British menu featuring their own smoked salmon and specialities from the Forman & Field catalogue as well as an entirely British wine and drinks list.
###