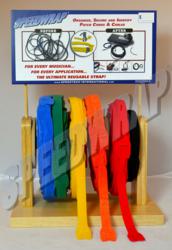 With such a great profit margin and the introduction of this self-promoting and easy dispensing display piece, retailers are thrilled
Racine, WI (PRWEB) November 08, 2011
Why music stores purchase Speedwrap® Strap Dispensers.
Speedwrap® hook and loop straps are made of industrial strength, back-to-back, hook and loop material and are a popular re-closable fastening solution when securing, identifying or organizing patch cords and cables. Speedwrap® brand straps are functionally equivalent to and made from the same material as *VELCRO® and ONE-WRAP® brand fasteners, otherwise and incorrectly referred to as; velcro ties, and Velcro straps, Velcro tie, Velcro cable tie or velcro straps. Speedwrap® hook and loop ties and straps are commonly sold on rolls or in bags. However the new Speedwrap® strap dispenser, allows music retail outlets to sell the straps individually. Musicians simply select from one of the 6 colored reels and tear off as many Speedwrap® ties as needed. The ability to purchase a-la-carte enables music retailers to cater to musicians or DJ's who need a few straps for bundling their guitar's patch cord or customers who want five ties and in five different colors to help organize a home studio.
Retailer cost for the initial order of $200 includes six reels of 8" Speedwrap ties, in six colors, with 75 ties per reel. The wall mountable dispensing unit ($30) has an attachable display header-card that explains the uses for the ties. Colors included are red, black, blue, orange, green and yellow. Reorders are $30 per reel with 75 Speedwrap ties per reel. Store profit starts at $42.75 per reel or $257 for the entire contents of the initial dispenser. Steve Pope, Speedtech International's Vice President of Marketing states, "The benefit to music, audio and video retailers is that the dispenser enables customers to make easy, impulse purchases of straps to organize the studio and stage or at home. Now that customer can just buy one tie or a dozen. With such a great profit margin and the introduction of this self-promoting and easy dispensing display piece, retailers are thrilled."
About Speedtech International, Inc.
Founded in 1994, Speedtech International Inc. pioneered the development of hook and loop cable management products. Fabricating from a newly designed and patented Velcro® brand fastening material, Speedtech leads the market with innovative bundling, cinching, routing and fastening solutions using hook and loop. Speedtech's Engineering and Sales team otherwise known in the industry as the Vel-Perts™ (velcro-style product experts) have focused exclusively on hook and loop ties, tape and straps. Industry leader Speedtech is a growing, customer-oriented company located in Racine, Wisconsin.
For help with product suggestions for the home studio, products to use during a gig or for retailer pricing information, contact Speedtech today.
For further information contact:
Speedtech International, Inc. Steve Pope PO Box 246, Racine, WI 53401
800-771-3896, 262-635-9394 or sales(at)speedtechinternational(dot)com
VELCRO® is a registered trademark of Velcro Industries B.V.
ONE-WRAP® is a registered trademark of Velcro Industries B.V
SPEEDWRAP® is a registered trademark of Speedtech International Incorporated
###