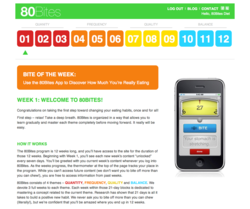 80Bites offers a solution for those frustrated with the "good food/bad food" approach to popular dieting: deprivation is out, intuition is in. 80Bites is designed to sever your relationship with crash dieting in 12 weeks.
New York, New York (PRWEB) November 08, 2011
Any seasoned American dieter can tell you how many calories are in a plain chicken breast, how many points that chocolate shake is worth or whether it's currently acceptable to eat carbs. But where has all this diet knowledge gotten us? As America's collective weight continues to skyrocket, it's clear we need to take a different approach to downsizing.
"Americans are fed up with the half-truths they've been fed after decades of mainstream dieting," says Meredith Luce, RD, MS, LN, co-creator of 80Bites. "The notion of categorizing foods as 'good' or 'bad' has really distorted the way we look at weight loss."
80Bites lets dieters in on a long-forgotten weight loss secret: it's not what you eat, but how much. Picking up where the popular 80Bites mobile app (for iPhone and Android) leaves off, the 12-week 80Bites Diet focuses on 4 themes: Quantity, Frequency, Quality and Balance. Users will spend 21 days studying each theme – the time scientists say it takes to adopt a new habit. These themes offer answers to common dieting questions: how much, how often, how to feel satisfied and how to sustain weight loss. 100% online, the 80Bites content is "unlocked" each week to prevent participants from jumping ahead, allowing them to fully absorb the information.
All diets work – provided you stay on them forever. "People have been led to believe that they lose on the diet and can then coast on 'maintenance', which is unfortunately not true," says 80Bites co-creator Joan Breibart.
Dieters may be shocked to know that the vast majority of popular diets are "crash" diets - dramatic initial weight loss followed by steady regaining. Every crash diet is a strike against the metabolism, making permanent weight loss increasingly difficult.
The intuitive 80Bites program is designed to help users sever their relationship with dieting once and for all. There is no "maintenance" period. 80Bites ditches complicated points systems, stacks of manuals and scientific nutritionist-speak for a simpler method – the honest system of counting bites. Using your own mouth as a guide, 80Bites begins with counting and evolves into an in-depth understanding of your own hunger cues and how to pair foods.
Priced at $50 for full membership, there are no monthly fees or accompanying products to purchase. 80Bites is built for the no-nonsense dieter – crucial information delivered simply, with lasting results in mind.
While addressing the country's excess poundage may seem overwhelming, the AMA has stated that losing only 10% of one's body weight is enough to cure diabetes, hypertension and dozens of other weight-related conditions. Anyone following the 80Bites Diet is on track to shed the weight – and their dependence on dieting – for good.
Pricing and Availability:
A 12-week membership for the 80Bites Diet is available for $50.00 at http://www.80BitesDiet.com
The 80Bites App is available for $0.99 for iOS and Android devices at http://www.80BitesApp.com
Creators:
Meredith Luce MS, RD LN has counseled overweight/obese patients, particularly those with stomach reduction surgery, for nearly 3 decades. She developed the bite tool to provide patients with the ability to control portions naturally.
Joan Breibart, President, PhysicalMind Institute is credited with putting Pilates on the fitness map in the early 1990's. 80Bites is the nutritional counterpart to the Pilate's physiological motto of "less is more".
###