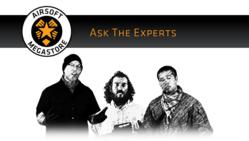 New customer-centric policies at Airsoft Megastore complement the current company culture and exemplify the company's commitment to increasing customer satisfaction and loyalty.
Irwindale, CA (PRWEB) November 08, 2011
Airsoft Megastore recently announced several new initiatives as part of their long-term strategy to be the most trusted Airsoft retailer in America, offering market-leading value and quality of service to customers. These new policies complement the current company culture and exemplify Airsoft Megastore's commitment to increasing customer satisfaction and loyalty.
Airsoft Megastore shook up the industry when they first introduced their 125% price match guarantee and a standard 31-day product warranty on all new Airsoft guns and gear. These new policies intensify their customer-focus initiative and set the bar even higher for the industry as a whole.
New Airsoft Megastore Policies

Airsoft Megastore has extended their industry-leading 31 day warranty to an astonishing 45 days; they are currently the ONLY Airsoft retailer in the world that backs up their products with such a comprehensive product warranty.
Airsoft Megastore now offers free shipping to the continental US on allorders over $99.
Unlike most Airsoft retailers, Airsoft Megastore will NOT charge a hidden handling fee if your order qualifies for free shipping.
Airsoft Megastore does not charge sales tax to any orders shipped outside of California.
To learn more about Airsoft Megastore's initiative to bring the sport of Airsoft to the masses, visit their many online resources including the Airsoft Megastore, the Airsoft Megablog and their Airsoft Megastore TV channel that features a myriad of informative and entertaining Airsoft-related videos, perfect for experts and novices alike.
About Airsoft Megastore:
Airsoft Megastore is North America's premier high-value supplier of Airsoft guns, ammo and accessories, including all the latest electric Airsoft guns, Airsoft Sniper Rifles and Airsoft green gas guns for 2012.
Strategically based in Southern California, Airsoft Megastore keeps costs low with efficient importing from Airsoft manufacturers in Asia. The company is committed to bring Airsoft to the masses by making the sport more accessible. The company strives to provide high quality Airsoft products at the lowest possible prices with a 125% low price match guarantee.
###