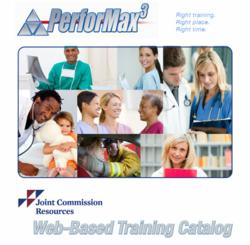 Joint Commission Resources is the definitive source for these critical patient-centered care topics. - David Trojnar CEO PerforMax3, Inc.
Clearwater, FL (PRWEB) November 09, 2011
PerforMax3, Inc., a leading developer and provider of web-based training solutions for government, university, and private sector healthcare organizations, announced today the release of a new series of online training courses for nurses. The new release consists of 72 lessons focused on high-priority patient safety and care issues in the hospital setting. The courseware was produced in collaboration with Joint Commission Resources (JCR), the publishing, educational, and consulting arm of The Joint Commission.
The courseware provides learners with training in the critical areas of patient safety, medication safety, performance improvement, and infection prevention and control. All content in the courses was developed by JCR and reviewed by Joint Commission experts. The online training is powered by PerforMax3's web-based training technology, an effective and easy-to-use online learning platform that is SCORM conformant and Section 508 compliant.
The course content addresses critical training needs that support The Joint Commission's accreditation requirements as well as its National Patient Safety Goals. As an accredited provider for continuing nursing education through the American Nurses Credentialing Center's Commission on Accreditation (ANCC), the JCR has assigned approximately 60 continuing-education units to the online courseware.
PerforMax3 and JCR are co-marketing the new courseware, which is available immediately, to health care organizations via the internet. The courses can also be licensed for use on learning management systems and private networks serving health care facilities.
For more information about this online training, please contact David Trojnar, CEO, at 888-752-6299 or visit http://www.performax3.com.
About JCR:
For more than 25 years, JCR has helped hospitals, ambulatory care facilities, and other health care organizations achieve and maintain compliance with Joint Commission accreditation standards, as well as improve the quality and safety of patient care. JCR is a recognized leader in results-oriented education programs, practical publications, innovative multimedia products, and consulting services that can help improve quality and safety across the entire health care organization.
About PerforMax3, Inc:
PerforMax3, Inc. is a leading provider of web-based training solutions for government, university, and private sector healthcare organizations. Founded in 1996, PerforMax3 is a privately held company with headquarters in Clearwater, Florida. The company began as one of several spin-off businesses at the Young-Rainy STAR Center that were launched as a part of a defense conversion initiative sponsored by Congressman C. W. "Bill" Young and the Department of Energy.
###