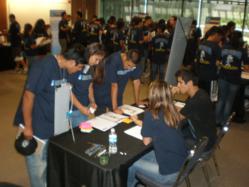 It made me realize the bills my parents have to deal with and it makes me want to learn more so I don't have to worry about money.
Orange, CA (PRWEB) November 08, 2011
A National Financial Educators Council (NFEC) financial literacy event entertained more than 100 high school students this summer at the Simon Family Foundation's annual Summer Conference, held at Chapman University in Orange, CA. These students, college hopefuls known as Simon Scholars, participated in the Real Money Experience (RMX), a hands-on money management workshop.
The Simon Family Foundation hosts several events throughout the year to facilitate student interaction and provide intensive training to prepare these young people for college and for life. The 2011 Summer Conference served more than 120 current Scholars and alumni during its three-day duration. The NFEC's experiential financial literacy program was one of many conference highlights.
During the Real Money Experience, Simon Scholars visited twelve separate booths and practiced making the life decisions they're likely to face when they move away from home. Participants went through the process of completing personal budgets as they visited the stations and interacted with over 30 volunteers. Students practiced deciding types of cars they wanted, how much they wanted to save, whether they would rent living spaces alone or with roommates, desired lifestyles, investment strategies, and other choices designed to prepare them to head off to college.
Participants expressed various reactions to the Real Money Experience. As one Simon Scholar commented, "I was pretty clueless about money. But now I feel confident in myself that I actually have an idea how to handle my money." From another Scholar, "I like how they made these games fun because I thought this would be boring, but now I'm thrilled to learn this."
Prior to the workshop, attendees completed a financial literacy test to measure their financial aptitudes. At pre-test, 52% of the attendees received a failing score. Yet upon completion of the money management workshop, the same test yielded a 90% pass rate—an improvement of more than 40%. The pre- and post-test measure was based on the NFEC's national financial literacy test, which measures current knowledge level, motivation to learn, and understanding of the first steps toward managing one's personal finances in several common areas.
The RMX money management workshop was designed around financial education and core subject standards. Experiential learning techniques improve participant interest while effectively teaching skills to make financial decisions that align with the participants' personal goals. The NFEC program has proven to increase participant retention rates, and attendees leave the event motivated to continue learning about money.
As part of the Simon Scholar program, the Simon Family Foundation offers college tuition along with training and support that equips the Scholars to succeed—inside and outside the classroom, in college and beyond. Today 90.7% of Simon Scholars remain currently active in the program or have graduated from college. Simon Scholars begin the program as high school juniors; they participate in life skills training, academic preparation, and team-building activities with their Simon Scholar peers until high school graduation. Then Simon Scholars enter college with enhanced self-confidence and self-esteem, greatly increasing their odds of receiving at least a Bachelor's degree.
The National Financial Educators Council has been well-recognized for its ability to educate high school-aged youth in an entertaining way to which young people can easily relate. Leveraging the support of celebrities, sports stars, and the entertainment industry helps raise interest and improve program effectiveness to reach this demographic. The Real Money Experience money management workshop brings fun, high-energy financial literacy training to organizations and individuals nationwide.
###