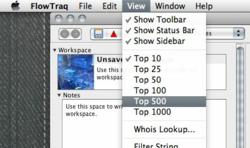 Visibility is key: The industry-wide approach of a handful of prepackaged views is no longer up to the job. FlowTraq Q3/11 is a truly flexible network flow analyzer.
Lebanon, NH (PRWEB) November 08, 2011
ProQueSys, LLC has released FlowTraq Q3/11. FlowTraq helps IT administrators find data leaks in the network, investigate compromises, and monitor network usage such as bandwidth consumption, applications in use, and changes in behavior or network activity that may indicate a problem. FlowTraq Q3/11 continues the commitment to complement and improve existing network operations by providing traceability, statistics, and identification of potential security events.
Building on previous enhancements delivered in 2011, including nanosecond precision, support for VLAN IDs, and Autonomous System numbers, FlowTraq Q3/11, full-fidelity network flow analyzer, delivers most requested improvements:

Top-N lists- now get up to the top 1000 hosts, host pairs, applications, interfaces, and more
Faster complex queries through improvements to the query processing system
New filtering fields and the ability to type a raw query string into the GUI – just like the command line
More flexible and informative database size configuration
Improved printed report formatting
More robust Alert and Report Schedule system
Stability enhancements
"FlowTraq has seen broad adoption as a basis for 3rd party traffic analysis and research applications, where FlowTraq is used as a generic and powerful flow collection and processing engine under the hood.", says Vince Berk, CEO of ProQueSys. "The Q3 release of FlowTraq has put the focus on greatly improving our low level programming interfaces, to allow faster and more user friendly development of 3rd party applications. These improvements carry over directly to our command-line tool suite for those users who prefer the command terminal to the GUI interface."
Mr. Berk continues with "The addition of nanosecond-precision flows, autonomous system support, and internal database optimizations has pushed FlowTraq into the realm of top-tier Internet Service Providers. Thanks to the scalability of FlowTraq, customers with 10Gbit and faster uplinks now have an affordable and easy to deploy alternative to the overly expensive and cumbersome flow offerings on the market."
FlowTraq Q3/11 is a full-fidelity network flow analyzer. Since FlowTraq never aggregates or discards traffic data, IT professionals are able to perform many network monitoring, forensic, compliance logging and security tasks with just one tool.
For more information contact ProQueSys at tel. +1 603-727-4477, email sales(at)proquesys(dot)com or visit http://www.proquesys.com for an interactive demo,download a 14-day trial, and view video tutorials.
About ProQueSys, LLC
ProQueSys develops and markets software solutions that improve network insight and reduce organizational risk at all levels of government, industry, and military, from neighborhood schools to Fortune 100 companies. ProQueSys network security software solutions include FlowTraq, FlowTraq Lite, Flow Exporter, and InterMapper Flows. ProQueSys is privately-held and headquartered in New Hampshire, USA.
###