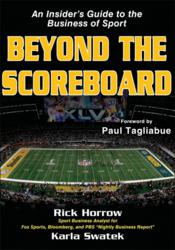 As more NBA games are lost, more money will be spent on hockey and college basketball.
Champaign, IL (PRWEB) November 09, 2011
The National Basketball Association was set to kick off its 2011-12 season on November 1, but thanks to the ongoing lockout, Opening Day has been postponed indefinitely. Rick Horrow, America's leading sport business expert and author of the new "Beyond the Scoreboard: An Insider's Guide to the Business of Sport," believes there are 13 ways in which the NBA lockout is affecting fans, economics, and the game's business:
1. More than 400 jobs have been lost because of the lockout: 200 at league headquarters and 200 amongst the league's 30 teams.
2. The city of Memphis is considering a lawsuit against the NBA for money to cover arena debt.
3. Orlando could lose the 2012 NBA All-Star Game if the lockout lasts much longer. Like Memphis, Orlando owns the local NBA arena and needs to make money in order to cover debt payments.
4. Teams are losing anywhere between $500,000 and $1.5 million in ticket revenue for each game lost.
5. With four weeks now wiped out by the lockout, approximately 200 games have been canceled. That comes out to about $400 million in revenue.
6. The NBPA has spent $600,000 on legal, consulting, and public relations fees. It doesn't seem to be working.
7. Teams that have been sold during the lockout: Detroit Pistons, Philadelphia 76ers, and Atlanta Hawks.
8. This is supposed to be the Nets' last season in New Jersey. Will it turn out that last year actually was?
9. Likewise, the Sacramento Kings were given one year to get an arena deal done before the team relocates to Anaheim. A lockout can't help that cause.
10. Players are picking up new hobbies. In addition to barnstorming tours, Drew Gooden of the Milwaukee Bucks is investing in wing restaurants, Delonte West of the Boston Celtics is working at a furniture store, and the Bucks' Brandon Jennings is interning at Under Armour.
11. Owner Mark Cuban is missing out on the chance to market his NBA Champion Dallas Mavericks.
12. Could Dwight Howard have played his last game in Orlando? The All-Star Magic center is supposed to become a free agent after this season.
13. The amount of ad revenue spent on NBA national TV broadcasts last year? $630 million. As more games are lost, more money will be spent on hockey and college basketball.
"Beyond the Scoreboard," co-authored by Horrow Sports Ventures vice president Karla Swatek, tackles a number of hot-button topics like lockouts and work stoppages head on, giving readers insider access to the boardrooms, negotiating tables, and executive suites of sport's most influential powerbrokers. Horrow is the leading expert in the business of sport as the architect of over 100 deals worth more than $13 billion. The CEO of Horrow Sports Ventures (HSV) hosts "Beyond the $coreboard" on the Nightly Business Report (Mondays on PBS) and serves as a sport business analyst for Fox Sports, Bloomberg TV, Bloomberg Businessweek, and the BBC. For more information on "Beyond the Scoreboard," visit http://www.HumanKinetics.com.
###