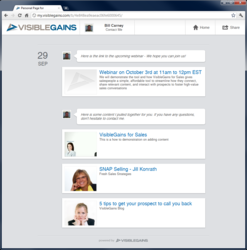 "VisibleGains for Sales helps social salespeople deliver the 4Cs of the Sales 2.0 cycle: Connect, (Deliver) Content, Converse, and Convert," Cliff Pollan, Founder, President and CEO of VisibleGains, Inc.
Waltham, MA (PRWEB) November 08, 2011
VisibleGains®, Inc. today announced the availability of VisibleGains for Sales™ — a Sales 2.0 software tool that lets sales professionals create and share a "Personal Page" of relevant materials for individual prospects in under a minute. This type of engagement establishes high value relationships, accelerates the sales process, and is proven to increase deal conversions by 20%.
Using VisibleGains for Sales, salespeople invite prospects to an online VisibleGains Personal Page™ where collateral and other custom-selected information are offered to individual prospects. This information is specific to each prospect for them to review at their convenience and when they're ready to engage. VisibleGains for Sales sends alerts when prospects view any content on their page, signaling the right time for sales to follow up. This new low-cost Software-as-Service solution works with the leading tools salespeople already use to interact with customers: Email (Microsoft Outlook) and CRM systems (salesforce.com).
With VisibleGains for Sales, salespeople can now:
1. Create a Personal Page for each prospect in under a minute then send it by email, then add to that page over time to further the relationship
Salespeople pull together a custom selection of content for each of their prospects, including research, product briefs, case studies, blog posts, PowerPoint decks, PDFs, podcasts, video, webcasts … then share that content through email or salesforce.com.
2. Know when it is the best time to follow up
VisibleGains for Sales notifies a rep by email or within their CRM system when their prospect views any content on their Personal Page, prompting sales to connect when prospects are most likely to take their call.
3. Make it easy for prospects to find information when they are ready
Add to a prospect's Personal Page over time to move them along the sales cycle. No more searching through an email trail-- the prospect's Personal Page keeps everything in one place.
4. Include an informal personalized video message right from your iPhone to build a human connection and boost open rates
Sending a video message through VisibleGains for Sales, makes it easy for salespeople to introduce themselves and their offerings.
5. Easily solicit internal support
Prospects can share their Personal Page with colleagues to get them in the loop, seek their input, get them onboard.
6. Turn customers into references
All customers need to do to endorse a product or service is forward a Personal Page to colleagues at other companies.
To watch a video of VisibleGains for Sales in action and how it helps salespeople earn the respect of each prospect and close more business go to go to: http://www.visiblegains.com/
"In an age where customers are in charge and increasingly rely on the Web to learn about and buy products and services, sales organizations need to embrace the 4Cs of the Sales 2.0 cycle: Connect, (Deliver) Content, Converse, and Convert," explains Cliff Pollan, Founder, President and CEO of VisibleGains, Inc. "VisibleGains for Sales gives salespeople a simple, affordable tool to streamline how they connect, share relevant content, and interact with prospects to foster high-value sales conversations through systems with which they are already familiar."
"VisibleGains for Sales is a very exciting development. Until now no vendor has offered a tool expressly designed to extend marketing automation to salespeople and thereby enable them to organize and share information with their prospects in such a consistent, dynamic and personalized way," said David Newberry, Group Marketing Officer of Pitney Bowes Business Insight — the software division of Pitney Bowes. "VisibleGains gives Pitney Bowes a powerful way to engage with prospects that closely mirrors our own value proposition which is to help organizations both connect and communicate with their customers in order to meet their needs and expectations in a way that optimizes the future value of the relationship."
"VisibleGains Sales 2.0 approach to customer engagement is the sales equivalent of what inbound marketing (as defined and delivered through vendors like HubSpot) is for new marketing techniques," said Anneke Seley, founder and CEO of Phone Works, and coauthor of the best-selling book, Sales 2.0: Improve Business Results Using Innovative Sales Practices and Technology. "Through its ability to share informative content in a timely fashion, while giving sales reps real-time customer intelligence, VisibleGains for Sales is a true Sales 2.0 innovation — simultaneously improving customer satisfaction, as well as sales productivity and results.
For product pricing for individuals and sales teams, or to sign up for a Free Account, go to http://www.visiblegains.com/sales-pricing.
About VisibleGains
VisibleGains' easy-to-use software helps sales and marketing organizations at enterprise and mid-market companies to break through barriers to online prospect engagement and help build trusted relationships with customers.
By fostering high-value one-to-one interactions between companies and customers, and simplifying how personally-relevant information, content, and digital video is shared, VisibleGains helps buyers make informed and confident purchase decisions more quickly. Through its seamless integration with legacy investments in email, CRM and sales tracking systems, marketing automation, VisibleGains' award-winning software amplifies Sales 2.0 results accelerating lead conversion and driving revenues.
Launched in 2009 and headquartered outside Boston, Massachusetts (USA), VisibleGains, Inc. is a private company with an impressive brain trust of industry advisors and run by veterans from customer-centric innovators including Agency.com, Intel, Lotus, NaviNet, NewsEdge, OneSource, Stratus Computer, and Thomson. Visit http://www.visiblegains.com/ or http://blog.visiblegains.com/
Press Contact:
Patrick Rafter for VisibleGains (Waltham, Mass. USA)
pr(at)visiblegains(dot)com
+1-617-901-2697
VisibleGains is a registered trademark and VisibleGains for Sales and VisibleGains Personal Page are trademarks of VisibleGains, Inc. All other product names and references contained herein remain the service marks, trademarks, or registered trademarks of their respective owners.
###