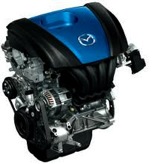 Joliet, IL (PRWEB) November 09, 2011
Bill Jacobs Mazda is one of the leading Mazda dealerships in the Chicago area and they would like to announce that right now they have many Mazda vehicles that feature the all-new SKYACTIV engine technology built by Mazda. Mazda believes that if it is not worth driving, it is not worth building and that is exactly the reason that they came up with the SKYACTIV engine. Mazda built the engine to be better environmentally and to reduce fuel consumption while not compromising driving performance; they succeeded.
The SKYACTIV engine uses a new internal combustion engine that is a 2.0-liter that produces 10-15% more low/mid-range torque. This, along with 15% lower fuel-consumption and emissions than the previous 2.0-liter engine makes for a better vehicle.
The SKYACTIV transmission is the ultimate transmission to put energy into the wheels of the vehicle. It has the best features of all transmissions but with an advance control module. This makes for the six-speed automatic transmission that shifts smoothly and has a steady acceleration.
The final part of the SKYACTIV technology is the platform, or the body and chassis. This platform has some of the best crash safety performance built and reduces previous years' weight. Better engineering and materials were used to produce a better body rigidity by 30% and better handling. Drivers feel more comfortable and are a better driver due to the improved platform.
Bill Jacobs Mazda has a large selection of new Mazda cars in Joliet and used cars in Joliet as well. Many of these vehicles feature the SKYACTIV technology and Bill Jacobs Mazda is very excited about it. People who are interested in new or used vehicle should stop by Bill Jacobs Mazda.
###