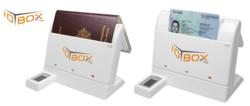 Pertuis, FRANCE (PRWEB) November 08, 2011
Elyctis announces ID BOX One, the new member of its ID BOX product range. ID BOX One is a new ePassport reader that reads the components of an ePassport with a single user's movement, ensuring ease of use and time-saving efficiency.
The user in charge of passport control simply places the passport on the ID BOX One reader, and the reader scans the MRZ (Machine-Readable Zone) and reads the chip of the electronic passport without requiring any further movement. The ID BOX One firmware ensures fast and accurate reading of both the MRZ and the chip as well as complete RFID and protocol interoperability.
Until now, verifying an ePassport required either heavy and costly flatbed scanners or lighter swipe scanners requiring multiple gestures from their users. With its innovative ID BOX One, a single-movement and easy-to-use ePassport reader, Elyctis brings a revolution in the world of passport holder verification where cost matters and entire datapage scanning is not required. Now, passport verification is quick and easy in a variety of situations: automatic airline check-in, hotel check-in, banks, rental cars, user interaction with administrations, etc.
Privacy protection is a central issue taken into account in biometric passport programs. Access to the electronic chip of a passport is protected by a key calculated from the optical data read in the Machine-Readable Zone (MRZ). On top of this mandatory Basic Access Control (BAC), most governments protect fingerprint data by PKI-based EAC (Extended Access Control) protocol that limits access to certain categories of agents.
Connected to a USB port without additional power supply the Elyctis ID BOX One includes an optical scanner and a contactless chip reader in a convenient small footprint housing. Elyctis ID BOX One options include:

fingerprint sensor allowing to perform a passport holder authentication, according to EAC (Extended Access Control),
contact smart card reader providing contact e-ID card reading,
SAM (Security Access Module) to allow strong authentication and off-line certificate storage.
Elyctis ID BOX One supports all industry standards: ICAO, IAS, ISO-7816, ISO-14443, PC/SC, and FIPS. It is compliant with all ICAO specifications and recommendations: BAC, PA, AA, EAC and SAC. In addition, Elyctis ID BOX One is also able to read ISO 7816 format cards, such as ID cards, residence permits, or driving licenses.
About Elyctis
Headquartered in Pertuis, France, Elyctis specializes in the development of hardware and software dedicated to Secure Identity Documents (e-passport, e-ID card, e-driver license, ...). The company, created in 2008, has a longstanding expertise in eID projects, as well as hardware and software developments.
More information at http://www.elyctis.fr
###