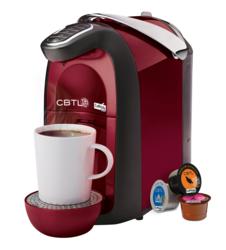 Los Angeles, CA (PRWEB) November 08, 2011
Following the successful introduction of the CBTL® Single Serve Beverage System, The Coffee Bean & Tea Leaf®, the Southern California-based specialty coffee and tea company, announced the debut of its new CBTL® Americano single serve model machine, which is available initially only at Bed Bath & Beyond stores nationwide and online just in time for the holiday gift and entertaining season. With the CBTL® Americano machine, along with a full line of CBTL® products, including the CBTL® Milk Frother, 19 beverage capsule varieties – espresso, coffee, flavored coffee and tea - and the exclusive Special Dutch™ Chocolate and French Deluxe™ Vanilla powders, consumers can re-create their favorite espresso, coffee, tea as well as the specialty beverages The Coffee Bean® is famous for – easily, at home, at the touch of a button.
"We are excited to offer the CBTL® System in Bed Bath & Beyond, known as a key destination for Single Serve," said Mel Elias, President and CEO of The Coffee Bean & Tea Leaf®. "Single Serve machines will be one of the hottest gifts this holiday season and now consumers will have the opportunity to buy the best in class CBTL® System in their local Bed Bath & Beyond store."
The CBTL® Americano model machine features six cup sizes, automatic beverage proportioning for consistency cup after cup, a 50 oz water tank, adjustable drip tray, automatic capsule ejection, used capsule storage, and energy saving features and retails for $149.99.
The CBTL® System is designed to be used exclusively with CBTL® capsules, which feature The Coffee Bean & Tea Leaf® hand-selected premium espresso, coffee and hand-plucked whole leaf tea. Each CBTL® capsule is hermetically sealed to prolong freshness to preserve the delicate aroma and features an internal two-filter system to ensure evenly balanced extraction and optimal flavor.
The CBTL® beverage capsules available at Bed Bath & Beyond stores and online include four varieties of espresso, 12 varieties of coffee and flavored coffee capsules (16 per box) plus three teas (10 per box).
The CBTL® Milk Frother can be used for one-touch frothed or steamed milk and the two proprietary flavored powders, French Deluxe™ Vanilla and Special Dutch™ Chocolate, which make rich and creamy specialty beverages just like those served at The Coffee Bean & Tea Leaf® will be available in 8 single-serve packets per box.
About The Coffee Bean & Tea Leaf®
Born and brewed in Southern California since 1963, The Coffee Bean & Tea Leaf® is the oldest and largest privately-held specialty coffee and tea retailer in the United States. Embodying a passion for connecting loyal customers to one another with carefully handcrafted products, the company is known for sourcing and providing the finest ingredients and flavors from around the world. For nearly 50 years, The Coffee Bean & Tea Leaf® has demonstrated a passion for product innovation epitomized by The Original Ice Blended® beverage. The company has grown to be an international icon and currently has more than 800 stores in 21 countries. In 2010, The Coffee Bean & Tea Leaf® launched the CBTL® Single Serve Beverage System that allows consumers to make their favorite espresso, brewed coffee, tea and specialty beverages at home, at the touch of a button. In addition to selling the system in The Coffee Bean & Tea Leaf® stores and online at cbtl.com, The Coffee Bean & Tea Leaf® has teamed with Sensio Inc., a leading manufacturer and distributor of small kitchen appliances, to distribute the CBTL® System in U.S. department stores, mass, discount and big box retailers as well as home shopping networks. For more information, visit http://www.cbtl.com or http://www.facebook.com/cbtl.
###