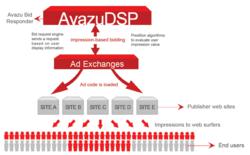 (PRWEB) November 08, 2011
Forecasts from the International Data Corporation (IDC) indicate there will be a huge increase in display advertising based on RTB by the year 2015. The growth predictions are, America – 71%, UK – 114%, France – 103%, Germany – 99%. The developing trends of online advertising in the countries above indicate that RTB is increasingly in demand among advertisers, publishers and agencies. And mostly it's because of the significant advantages of RTB itself. Avazu (Germany, Brunei and China ), Komli (India and Singapore), etc. are the companies offering RTB technology in China and other Asian countries, excluding Japan.
What is RTB?
RTB stands for Real Time Bidding. It's a bidding technology which uses third party technology to price and bid on individual user's display advertising on millions of websites.
A DSP Platform centralizes bidding and placement of display advertising. The first step is to send requests with users' display information using its data tracking capability. The second is DSP platform using a predictive algorithm to calculate users' display value and send back the bid price to bid responder. Finally, orders are sent to an ad exchange system, ad code delivered to major media then passed on to end users.
Advantages of RTB
Why is the RTB system so successful and popular?
It brings higher ROI (return on investment) for the three parties involved in advertising campaigns - publishers, agencies and advertisers.
It is a system that brings a win-win-win situation. Online advertising company Avazu has replied related questions. Market equilibrium is a classical model in economics which maximizes total surplus. When supply meets demand at the interface, there's neither lack of resources because of overpricing nor wasted resources.
The RTB system is designed to allow smart data management to minimize or eliminate inefficiency.
Applying this theory to display advertising market, the good exchanged is the advertisement display, the demand comes from the publisher or agency, while the supplier is the publisher. The bidding strategy, which maximizes yield, is to provide different bidding prices for every advertising space according to demand.
Generally, publishers can increase advertising sales, automate the sales process and decrease the cost. And the direct benefit for publishers and agencies is the increase in efficiency and ROI.
DSP + RTB = Perfect match
The case of the online advertising company Avazu (http://www.avazu.cn , http://avazudsp.net) applying the RTB system shows its huge power on SSP (sell-side platforms), DSP (demand –side platforms) and Ad Exchanges, etc.
There are various advantages to RTB taken advantage of by Avazu Inc. through its proprietary DSP platform. Using it, buyers can cost according to features such as time, frequency, content and price, etc. Each allows for greater precision and decreased waste. With Real Time Bidding, every advertiser will place the advertisement in the most flexible and precise way.
Successful German online retailer Neckermann has long collaborated with Avazu. Using its powerful database and data mining technology, Avazu tracks customer behavior including searches, browsing habits, clicks and purchases online. With specific analysis, Avazu places advertisements precisely through RTB, significantly increasing ROI.
RTB: New dynamics for Internet advertisement in China and Asia
In the USA and Western European countries where internet advertising is highly developed, RTB has formed its scale and is developing rapidly. However, RTB is relatively undeveloped in Asia, partially because of the wider advertising environment, as well as a lack of large-scale investment and of companies with the necessary technology. The development of online advertising in Asia relies on joint efforts between companies using the RTB model.
###