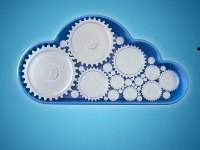 (PRWEB) November 08, 2011
The Healthcare Performance Management Institute (http://www.hpminstitute.org) will hold a Webcast on December 1, 2011 titled "Building a High-Performance Engine for Healthcare: Why Cloud Computing Architecture Matters."
The Webcast will feature a renowned panel of experts who will explore the role of cloud computing in optimizing health plan management. This is a critical issue because cloud computing will have an immense impact on the economics of health plan management over the months and years to come. A growing number of organizations in the public and private sectors are scrambling for new ways to streamline operations and reduce costs while securing better healthcare outcomes for health plan members.
The Webcast will explore:

The impact of healthcare reform on the business of healthcare and technology used to support the administration and delivery of healthcare;
How Cloud-Computing infrastructures can immediately reduce costs and improve outcomes for plan members; and
Examine why legacy technology architectures (mainframe and client-server platforms) are ill-equipped to support emerging health plan administration requirements
The institute has assembled an impressive panel of experts to discuss these issues:
Henry Cha, President of Healthcare Interactive, a healthcare technologist who specializes in delivering software as a service (SaaS) offerings that help companies better manage employee healthcare programs and related costs.
Todd C. Thompson is the Chief Technology Officer (CTO) for the Financial Services & Human Capital line of business within Lockheed Martin Corporation.
Michael Clark, Vice President of Development for Pacific Intermedia, a professional services and technology development organization serving the financial, healthcare, manufacturing and government markets.
The Webcast will be moderated by Lane Cooper, Editorial Director of the HPM Institute.
To register for this free Webcast, please go to: http://www.hpminstitute.org/Webcast/CloudArchitecture
About the HPM Institute
The Healthcare Performance Management Institute (HPM Institute) is a research and education organization dedicated to promoting the use of business technology and management principles that deliver better and more cost-effective healthcare benefits for employers who cover their employees.
The Institute's mission is to introduce and develop a new corporate discipline called Healthcare Performance Management (HPM) -- a technology-enabled business strategy that tackles the challenge of controlling healthcare cost and quality in much the same way that enterprises have optimized customer relations, supply chain management and enterprise resource management. HPM provides C-level executives with visibility and control over company healthcare benefits spending trends and risk management postures, while protecting individual employee privacy.
###