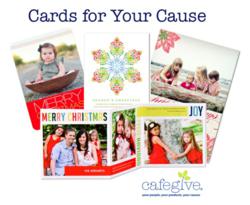 "CafeGive's 'Cards for Your Cause' program with Tiny Prints allows anyone to participate in the long-standing tradition of sending photo holiday cards, while also giving back to the cause that is close to their hearts."
Portland, OR (PRWEB) November 08, 2011
CafeGive®, the online shopping site where purchases benefit a cause, offers a "Cards for a Cause" this holiday season with Tiny Prints, a premium online destination for family stationery and greeting cards. This program gives consumers a simple way to do more with their holiday card purchases. When purchasing holiday cards through CafeGive and Tiny Prints, 10% for any purchase benefits a non profit of their choice. "Cards for Our Cause" program is part of CafeGive's comprehensive offering of over 370 online stores where purchases benefit over 130 local, national and worldwide non-profit organizations.
To make your holiday cards earn for the cause you choose, Cafegive Cards for a Cause, select the cause to benefit and go shopping on Tiny Prints. Tiny Prints has a large collection of card styles that are sure to fit every style and budget, including photo cards and personalized greeting cards as well as gifts. Simply pick your card style, add your personalized holiday greeting, upload photo(s), select quantity, make your purchase. Every card you purchase will benefit a cause, and TinyPrints customer service will make sure it is beautifully done. While the program is focused on cards, all TinyPrints products will qualify.
"At CafeGive, we know how passionate our customers are when it comes to giving back to the charities, especially during the holidays" said CafeGive CEO, Sandra Morris. "Our 'Cards for Your Cause' program with Tiny Prints allows anyone to participate in the long-standing tradition of sending photo holiday cards, while also giving back to the cause that is close to their hearts."
"Tiny Prints cards are like little gifts," said Tiny Prints CEO, Ed Han. "We pride ourselves on our quality and the care we take with every order. Now, thanks to CafeGive, those tiny gifts can give twice. We are delighted that CafeGive is working with so many nonprofit partners who can benefit from our holiday cards."
About CafeGive
CafeGive is a unique online marketplace that lets consumers shop for a cause. Cafegive.com is a free service connecting online shoppers to hundreds of brand-name online retailers and local and national nonprofit organizations to earn for their causes. In addition, CafeGive provides social networking tools to allow nonprofits and business to create specific fundraising goals and extend their reach to family and friends. The CafeGive website is the company's first social responsibility related application combining philanthropy and online shopping. CafeGive is headquartered in Portland, Oregon. For more information visit http://www.cafegive.com
About Tiny Prints
Tiny Prints, Inc. is comprised of Tiny Prints and Wedding Paper Divas, two thriving ecommerce brands offering stylish cards, invitations, personalized stationery and photo books to customers from around the world. The company's emphasis on fresh design, high quality products and a perfectly delightful customer experience have led to continued success in a variety of markets, Christmas cards to personalized greeting cards, photo books, business cards and beyond. Beloved by celebrities, top designers and stylish shoppers alike, Tiny Prints is quickly becoming a household name that is proud to remind us all that sometimes the tiny things in life are really the big things in disguise.
###