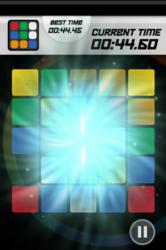 The concept of Rubik's Race is beautifully simple, and the app works on the same principle!
(PRWEB) November 09, 2011
Puzzle fans can now play the addictive Rubik's Race game on the move with Rubik's new app for iPhone & iPad, making the latest Rubik's craze instantly accessible for gaming fun. Available in the Apple app store, the Rubik's Race app features fast-paced, sliding puzzle-based game play as users try to match patterns and beat the clock, whilst unlocking perks and dodging the pitfalls.
The popular Rubik's Race game on which the app is based takes the simple concept of a sliding tile puzzle and turns it into a fast-paced game for one or two players that gets brains and fingers racing.
Explained David Kremer of Rubik's: "The concept of Rubik's Race is beautifully simple and the app works on the same principle, but it means that you can sneak in some practice on your own whenever you like, as well as pitting yourself against friends. With the fun and flexibility of three ways to play and your best scores being posted to the game centre as well as to Facebook, it adds a whole new dimension to the game."
"After the success of the original cube app we wanted to give the loyal fans of Rubik's something more," said David. "With the recent launch of Rubik's Race, we felt the app was the perfect way to offer our fans a new way to play. The brightly coloured square tiles are instantly identifiable as 'Rubik's' and we hope that people will have as much fun with this as the physical game."
The app's Arcade mode is a level-based version of the game where you pit your wits against the clock, with perks and pitfalls adding to the excitement. Complete increasingly more complex patterns as the levels progress and when the timer runs out, you're out!
The Time Attack option uses the basic game where you create a nine-tile pattern of the app's choice as quickly as possible. To get interactive, you can compete against the times of others as well as your own best scores using Games Centre leader boards.
As with the original Rubik's Race, Play & Pass mode allows you to compete against friends on the same device to see who really is the best Racer out of your friends.
Rubik's Race is available via the app store for iPhone, iPad & iPod Touch for £1.49/$1.99.
###