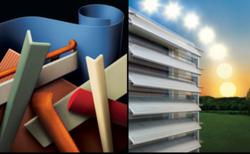 Muncy, PA (PRWEB) November 16, 2011
Construction Specialties (C/S) is proud to announce that two of its products, Acrovyn® 4000 and Solarmotion®, have both won 2011 Architectural Products' Product Innovation Awards.
Architectural Products' Product Innovation Awards (PIA) recognize products, materials and systems innovation that lead commercial and institutional design to new heights. With judging and evaluation of products and systems from a distinguished panel of 44 architects and specification specialists skilled in product evaluation, the PIA program awards manufacturers based on attributes, qualities, functionality and/or performance beyond industry standards.
Acrovyn 4000 is a complete line of wall and door protection products made from modified polyester that is completely free of PVC and BPA (bisphenol A) and contains no PBTs (persistent bioaccumulative toxins). With a contemporary texture overwhelmingly preferred by owners and designers, it offers the same high-impact strength and UL Class 1 fire rating as original Acrovyn. It is available in 64 colors as well as sixteen realistic woodgrain finishes and two simulated metal finishes. Acrovyn 4000 is MBDC Cradle to Cradle Certified CM Gold or Silver.
Solarmotion's two intelligent sun shading systems reduce heat gain and glare while lowering a building's energy usage. The Dynamic Façade System's monumental and low-profile options track the sun to maximize the control of light and solar heat entering a building's interior. Architectural Blinds can be installed on the interior, exterior or even within the windows of a building and are more effective than double pane glazing. Solarmotion blades are available in aluminum, cedar wood, perforated metal, glass, acrylic and a variety of other materials.
Through products and practices C/S has long been an industry leader in socially and environmentally responsible building product manufacturing. The company received the Practice Greenhealth Champion for Change award three consecutive years and the 2011 Environmental Protection Agency Mid-Atlantic Environmental Achievement Award as well as the PA Governor's Award for Environmental Excellence.
For more information about Acrovyn 4000, Solarmotion and other C/S products, visit their website.
About Construction Specialties
Construction Specialties manufactures and sells specialty architectural products internationally, with over 30 offices and manufacturing facilities worldwide. Its products include interior wall and door protection, entrance flooring, expansion joint covers, louvers, grilles, sun controls, explosion vents, smoke vents, and cubicle track/curtains. The company serves architects and designers, building owners, facility managers and contractors. Construction Specialties, Inc. was founded in 1948 and is headquartered in Lebanon, New Jersey.
###