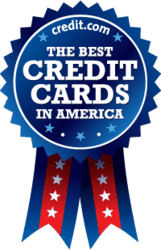 San Francisco, CA (PRWEB) November 10, 2011
Credit.com, a leading consumer education and financial resource website, today announced the winners in the third installment of its best-in-class series, "The Best Credit Cards in America." This installment features Credit.com's picks for the "Best Airline Miles Credit Card" and the "Best Low Interest Credit Card."
"The Best Credit Cards in America" series is the brainchild of nationally recognized credit card expert Beverly Blair Harzog, and is designed to give users a peek at the most "consumer friendly" cards in the marketplace. Harzog examines a variety of credit card categories and designates the best cards within that group. Cards are rated based upon a unique formula of 41 separate metrics that compare the cards' costs and benefits.
"The holidays are almost here and that means folks will be traveling," says Harzog. "This is the perfect time to consider an airline miles credit card. The winner, Chase Sapphire Preferred Credit Card, offers a sign-up bonus that's more than enough for a free flight."
The approaching holidays along with the unsettled economy inspired the second category: Low interest credit cards. Many consumers saw their savings dwindle away during the recession. For these consumers, having an "emergency" credit card on hand is an essential safety net.
"I always tell consumers that they should never carry a balance," says Harzog. "But sometimes life gives us unpleasant surprises. I recommend having a low interest credit card on hand for emergencies or for when you're having cash flow problems. It can be a low cost way to revolve a balance for a few months."
Here are the winners:
Best Airline Miles Credit Card:
Winner: Chase Sapphire Preferred Credit Card
1st Runner-up: Capital One Venture Rewards Credit Card
2nd Runner-up: Starwood Preferred Guest Credit Card from American Express
Best Low Interest Credit Card:
Winner: Simmons First Visa Platinum
1st Runner-up: IBERIABANK Visa Select
2nd Runner-up: Capital One Platinum Prestige Credit Card
Read a full synopsis of the winners and methodology here.
And read about previous winners in the series:
The Best Credit Cards in America: Student and Secured Cards
The Best Credit Cards in America: Cash Back and Travel Rewards Cards
About Credit.com
Credit.com provides straightforward news, tools, education and products to help consumers make smarter financial decisions. Credit.com was established in 1995 with the goal of helping consumers with any credit standing to establish, rebuild, enhance and effectively use credit. Our industry experts create clear paths for consumers looking to improve their finances.
###