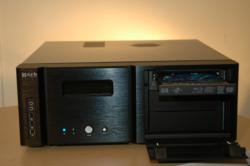 iHOTTV fulfills the long-standing promise of PC and TV integration.
BERNARDSVILLE, N.J. (PRWEB) November 09, 2011
Fast-teks On-site Computer Services announced that its iHOTTV™ solution is now available for sale and installation. iHOTTV is a revolutionary digital media solution combining personal computing, Internet technologies and digital entertainment in an effective, yet simple-to-use installation. The New Jersey Internet TV solution is currently available through the Fast-teks of Northern and Eastern NJ and can be viewed at the Bernardsville media center location.
iHOTTV brings all your media and applications together in one device, including live and recorded television; Internet services; music, video, and photo libraries; social media; e-mail and more. The solution includes built-in DVD and DVR capabilities with the option to add a game controller, webcam, and multiple screens in multiple rooms. The iHOTTV solution can be integrated with an existing HDTV to create a home theater, or can include a new HDTV as part of the package.
"iHOTTV fulfills the long-standing promise of PC and TV integration," said Fast-teks customer Gehrig Dilgard. "We're able to effortlessly access all of our DVDs, music, photos and home movies as well as internet sources like YouTube, CBS.com, Netflix and Facebook – all through our home theater system. The multi-screen setup also allows us to use our TV as a monitor for checking email, the stock market and using Quicken."
An all-in-one digital and NJ Web TV solution, iHOTTV allows you to:

Surf the web
Access your music, movies, and photo libraries
Watch live and time-shifted TV
Watch and record up to 4 HDTV channels
E-mail, Facebook, video chat
Play Internet games and more
With built-in DVD and DVR, the iHOTTV solution is able to eliminate set top boxes and DVR services and the monthly fees charged for both. The solution can also be configured to be controlled from a tablet, smartphone, wireless keyboard and mouse, or a traditional remote control device.
"The iHOTTV solution has ample opportunities for enhancement, including surround sound, video security, webcams for video chat, or Microsoft Office for full-scale home office integration," said Fast-teks franchise owner Harold Grossnickle. "We can scale it from one room to the whole house and even control it all from an iPad or other tablet device."
"Fast-teks has long been regarded as a leader in the tech industry because we truly are a one-stop shop for our customers, offering a wide variety of convenient, affordable solutions," said Mark Lucas, founder and CEO of Fast-teks, Inc. "So we are excited to now expand our brand to encompass digital media solutions through iHOTTV. We anticipate a strong reception from both the residential and commercial marketplace."
Fast-teks offers a free in-home consultation, affordable installation services, as well as TotalCare Maintenance Services to provide you care-free use and confidence your investment is protected. Fast-teks invites you to view the video demo of this technology or visit a live multi-room display at the Fast-teks Bernardsville office at 35 Olcott Square. To make an appointment for a live demonstration or for pricing details call 908-647-3451.
About Fast-teks, Inc.
Fast-teks is an on-site computer service company that specializes in both residential and business IT services. Fast-teks is one of the fastest growing on-site computer services firms in North America and offers business owners and residential customers a one-call solution for all their computer needs. For more information, visit http://www.fastteks.com/pc.
###