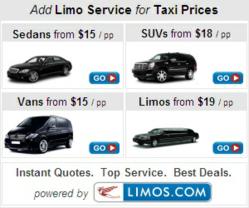 As an affiliate partner with Limos.com, we're especially excited about the convenience it will offer our guests
Denver, CO (PRWEB) November 23, 2011
Gondola Resorts® and Limos.com® today announced a partnership that allows customers to search, preview, rent and book transportation to and from all of Gondola Resorts' Colorado destinations. Limos.com will start offering the service immediately to guests arriving at Denver International Airport for travelers headed to the likes of Aspen, Breckenridge, Keystone and Copper Mountain. Limos.com is the world's largest online marketplace for private car transportation.
Customers will be able to request the exact limosine that fits their needs by using the Gondola Resorts vacation rental portal found at their guest services website. Vehicle choices include stretch limosines, luxury vans, Cadillac Escalades, and Lincoln Town Cars. All online reservations through the Gondola Resorts website receive a 20% introductory discounted rate to all destinations that the company services.
"This affiliate partnership that was confirmed today with Limos.com is a huge win for our customers", said Gino Malara, Gondola Resorts' CEO. "Imagine starting your vacation the minute you depart the plane with a private driver, luxury limousine, and 5-star attention. This is the type of unmatched customer service that both Limos.com and Gondola Resorts strive to provide every day. We think our customers will enjoy this exclusive option."
During the organization's November 4th annual meeting in Breckenridge, Gondola Resorts employees were whisked away by a surprising fleet of stretch limosines. After 20 minutes, a select group of employees were dropped at Keystone resort's 5-star condominium complex (The Timbers on River Run) for an evening dinner event to celebrate the expansion of services that the company has enjoyed over the past year.
"With more and more of our guests focusing their lodging requests at our luxury accomodations, it's critical that Gondola Resorts connects them with the perfect service options that can provide these special experiences," said a spokesperson for Gondola Resorts. "As an affiliate partner with Limos.com, we're especially excited about the convenience it will offer our guests headed to their vacation rentals at the various Colorado ski resorts."
About Gondola Resorts, Inc.
Gondola Resorts, Inc. provides vacation rental homes, condos and villas delivering on the promise of helping vacation travelers discover the alternative to small and confined hotel rooms. Gondola Resorts is one of the leading regional lodging providers, offering rentals in some of the most spectacular resort locations in Colorado, Utah and Florida. Gondola Resorts is based in Denver, Colorado with partnership operations in Aspen, Breckenridge, Copper Mountain, Deer Valley, Keystone, Park City, Orlando, Steamboat Springs, Summit County, The Canyons and Telluride.
About Limos.com
Limos.com is the largest online marketplace for chauffeured transportation worldwide, enabling leisure and business travelers to compare and book pre-screened car services at specially-negotiated discounts of up to 40 percent off standard rates. With exclusive search technology, thousands of quality local vendors and helpful customer reviews, Limos.com consistently delivers more ways to find the perfect car or limousine service for any occasion. Learn more at http://www.limos.com.
###