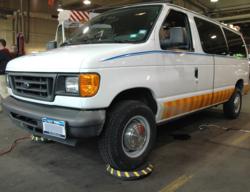 We offer a full range of services to our customers in Arabic
Alexandria, VA (PRWEB) November 08, 2011
Middle East distributor EMDS will represent Drive Square during the Conference.
CEO and Founder of Drive Square, Konstantin Sizov, said EMDS, with its strong background in driver and security training, is the perfect partner for our Middle East efforts. "I am thrilled that EMDS CEO, Wael Mubarak, is on our team as the exclusive distributor of our simulator system in the Arabic Middle East Region," he said. "His many years of experience are of great value to us as we customize our product for customers in that region."
EMDS has offices in Egypt and Lebanon and has designed custom Egypt/Cairo driving scenarios for the Drive Square Driving Simulator. Simulators with the custom scenarios have been sold and are being used by PepsiCo in Cairo.
EMDS is currently working on the design of Iraqi scenarios. According to Wael Mubarak, "We also provide on-site training services using driving simulators, as well as technical support and train-the-trainer services for larger organizations. We offer a full range of services to our customers in Arabic."
Mubarak went on to say, "Oil companies are in need of driver training products in the Basra region as it is being reconstructed and more local drivers are hired to operate expensive vehicles/equipment for the oil companies. We believe our simulators can help to meet those needs and we look forward to demonstrating the Drive Square simulator at the upcoming Basra exhibition."
The Basra Oil and Gas Conference and Exhibition is being held for the second year at the Basra International Fair Ground. According to the conference website, it will cover Iraqi industry at large, as well as "emphasize on the upstream sector services that are required to support the production and handling of the escalating volumes of oil and gas that will be available within the current decade. Such oil and gas volumes will be in the order of some 10 million bo/d for oil and 10 billion scfd of mainly associated gas (90%) and free gas (10%). The Basra Oil and Gas Event will be a perfect meeting point for all parties interested to play an effective role in the shaping of the future of Iraq's oil and gas industry."
Attendees at the conference will have an opportunity to test the Drive Square simulator. Founded a decade ago, Drive Square offers a portable, cost-effective, in-vehicle simulator system that is easy to set up and can be used in a wide array of vehicles ranging from automobiles to fire trucks and military vehicles.
Set-up is simple – just 20 minutes in any parking space. Drive the vehicle onto a pair of turntables, attach sensors to the pedals, connect the virtual reality goggles and sensors to a laptop – trainees are ready to roll. Thanks to the virtual reality goggles (also known as 'Head Mounted Display') trainees can drive in virtual space while operating the controls of an actual vehicle – no fuel necessary and no wear and tear on the vehicle.
Drive Square is a versatile training solution that is being used by the U.S. Department of Agriculture, U.S. Department of Transportation, U.S. Army, U.S. Navy, and U.S. Air Force. Drive Square simulators are also used by police departments, driving schools, hospitals, rehabilitation centers, and research institutions in the United States, Canada, Europe, Australia and the Middle East.
For more information, please contact Konstantin Sizov at 1-617-762-4013 in the USA; or Wael Mubarak at + 2 0 12395 3131 in Egypt and + 961 700 29 800 in Lebanon.
###