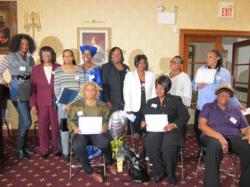 The home health aides who support Friends Life Care members are extraordinary. They are so caring and compassionate, and the members are very committed to recognizing them for wonderful service.
Plymouth Meeting, PA (PRWEB) November 16, 2011
Friends Life Care held its 6th Annual Best of Friends Home Health Aide Awards Luncheon in Abington, PA, on November 15, 2011. The luncheon honors exceptional home health aides, the unsung heroes of the home health care industry who demonstrate their professionalism by the quality of care they provide to members of Friends Life Care.
The Best of Friends awards program supports the overall mission of Friends Life Care: to help people remain in their home as they age. It does so by paying tribute to the care givers who provide dignity to Friends Life Care members and who help keep members feeling supported and safe during some of the hardest days and years of their lives.
"The home health aides who support Friends Life Care members are extraordinary. They are so caring and compassionate, and the members are very committed to recognizing them for wonderful service," says Carol Barbour, President, Friends Life Care.
A committee of Care Coordinators selected six winners from the field of nominees, three aides in the hourly category and three in the live-in category. In making its decision, the awards committee looked for those care givers who are rated highest by members in areas of attitude, dependability, problem-solving skills, communication skills, respect and dignity, personal appearance, and overall satisfaction. This year's winners for the Friends Life Care "Best of Friends Awards 2011 are:
Hourly: 1st Place, Linda Walker and Deborah Poore, Silver Lining; 2nd Place (tie) Rosalind Jefferson, Human Touch and Djeneba Traore, Reliance; 3rd Place (tie)
Mandia B. Kamara, Home Care Options and Anne Dodier, Intervention Associates.
Live-in: 1st Place (tie) Robin Walker, Granny's Helping Hands and Marva Harrington, Silver Lining; 2nd Place (tie) Stephanie Addly, Silver Lining and Eullys Cooke-Bowen, Silver Lining; 3rd Place (tie), Cecilia Dixon, Silver Lining and Beverly Gregory-Atkinson, Intervention Associates.
Honorable Mention: Live-in
Silver Lining: Bertha Holland, Danielle Dadjere, Azizat O. Moyosore, Dorothy Cohen, Norma Bailey, and Paula Casimiro
Attentive Care: Lydia Lumbne (Attentive Care)
Honorable Mention: Hourly
Silver Lining: Anna Taylor, Denise Dillard, Shirley M. Williams, and Annmarie Williams
Granny's Helping Hands: Rachel Booker-West
Comfort Keepers: Ruth Brown
Home Care Options: Joan Amos
Winners received checks from Friends Life Care in the following amounts:
First place $300; second place $100; third place $75. Every aide nominated, aside from the winners, will receive a certificate of honorable mention and a $20 gift card. Winners invited family members to attend the luncheon and the Friends Life Care member each served also attended the event.
About Friends Life Care:
Friends Life Care offers long term care protection by providing wellness programs, home health care, related personal-care services and facility care to enrolled members in the Philadelphia and Delaware areas. Individuals and couples become members of Friends Life Care in order to protect their independence, guard their financial security and gain peace of mind. All member care is provided and coordinated by a team of credentialed, carefully screened and selected professionals and Care Coordinators.
About Vicki Hoak:
Vicki Hoak is the Executive Director of the Pennsylvania Homecare Association, a state trade association representing more than 500 homecare, hospice and other home and community-based agencies.
With 35 years of experience in both government and associations, she served as Communications Director for the Pennsylvania Department of Public Welfare, and was the Special Assistant to the State Secretary of Transportation.
She was also the Public Relations Director for the Pennsylvania Division, American Cancer Society and the Pennsylvania Bar Association, and was the Corporate Communications Director for Northwestern Human Services, a national behavioral health corporation based in Philadelphia.
Currently, Vicki is a member of the Pennsylvania Center for Health Careers' Leadership Council, and the state's Medical Assistance Advisory Committee. She is chairperson of the Medical Assistance Long-Term Care Subcommittee, and a member of the Pennsylvania Emergency Preparedness Committee and the Pennsylvania Health Improvement Plan Steering Committee.
A founding member of the Pennsylvania Senior Support Coalition, she is the former vice chairperson of the Forum of State Homecare Associations and was appointed to the Pennsylvania Senior Care and Services Study by Gov. Edward Rendell. She is also a past president of the Southcentral Pennsylvania Chapter of the Alzheimer's Association.
# # #