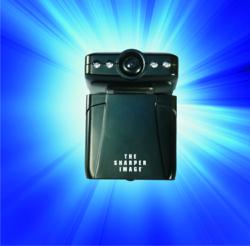 "You never know what the camera will catch!"
Las Vegas, Nevada (PRWEB) November 09, 2011
Today at the Specialty Equipment Market Association (SEMA) of the automobile aftermarket, the first publicly available DASH CAM was revealed. The Original Dash Cam enables the general public to aid themselves and authorities with visual evidence of criminals and the crimes they commit. BGR Group of Michigan has brought this high-tech, current police technology to the United States and made it available to the general public.
"The Original Dash Cam allows the general public to become a partner in fighting all types of crimes", said Joe Greenfeld, Vice President of BGR Group. "Imagine you are watching the news and see that a crime has been committed. Knowing you were in the area with your DASH CAM around the same time, you check your SD card only to discover your DASH CAM has captured evidence the authorities can use! You never know what the camera will catch!" Even at night, the DASH CAM continues to protect with night assisted LED lights and a motion detector. The Original Dash Cam puts more eyes on the streets. The authorities are always looking for that one additional piece of security camera footage to solve many of today's crimes.
"The Original Dash Cam is a must have for every driver who has ever questioned who was at fault in an auto accident and can even be used to dispute moving violations," said Brian Riederer, President of BGR Group. "With the availability of The Original Dash Cam we expect more customers to make the move to protect themselves and their neighbors."
"I have been looking for one of these for years, said Edgar Brandon, a customer from Minnesota, I recently purchased The Original Dash Cam and now I have peace of mind."
The Original Dash Cam Availability
The Original Dash Cam is being rolled out at many on line retailers such as Stage Stores as well as catalog houses such as Heartland America. The Original Dash Cam is coming to many retail outlets across the country. The Original Dash Cam is also available through the company web site at http://www.dashcam.biz.
There is also a YouTube video http://www.youtube.com/watch?v=HwmMc91zCwQ
For more information:
Joe Greenfeld, 949-878-8750, joe(dot)greenfeld(at)bgrgrouptsi(dot)com
###