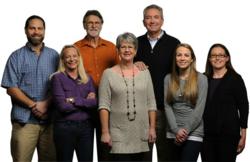 Many people who used to take their vacations to Hawaii, Europe or Tahoe are coming up to the Arnold area these days.
Arnold, CA (PRWEB) November 15, 2011
Cedar Creek Realty, a vacation rental and property management company in Arnold, California reports that vacation rentals are being snapped up in the area.
"This was the best July we've ever had. It was record numbers for us," said Kelley Stellar, vacation rental manager for Cedar Creek Realty in Arnold. "Many people who used to take their vacations to Hawaii, Europe or Tahoe are coming up to the Arnold area these days."
Stellar believes this is partly due to the poor economy and partly due to the recent "discovery" of the Arnold area by young families in the East Bay of California's San Francisco Bay Area.
Stellar estimates there are between 150 and 300 vacation rentals available in the greater Arnold area. Renters often just stay for the weekend, but week- and month-long stays are becoming increasingly common.
From a business perspective, experts believe that turning a second home into a vacation rental is a good way to supplement income. "It's a great idea in this point in time," Stellar said. "All of my rentals are second homes. Now, because of the economy, they have decided to rent them out for extra income."
Stellar said that along with the booming rentals, home sales are also up in the area. "We get people who actually are up here looking to purchase a home to put it in a vacation rental program. They know that now is a good time buy."
There are two main seasons for vacation rentals. During the summer, families come up for vacations and enjoy the lakes and rivers and exploring the mountains. In the winter, numerous skiers head to the hills. "From the third week in June (when kids get out of school) through Labor Day" is a booming time, Stellar said. "We start getting busy again when the snow flies around Thanksgiving. That lasts through Easter."
Who rents?
People come from all over the state and beyond to stay in the cabins and homes in the Arnold area.
"Most people are coming in with two to three families," Stellar added. "They rent the larger houses. Usually, it's families. People in their 30s with children ranging from 5 to 13. We get a lot of them from the Bay Area." Luckily for owners, there are very few younger renters, and the cabins do not receive very much damage. "We don't get a lot of the 20-somethings up here," Stellar said. "Almost all of them are families. I really don't get a lot of damage. I might get a spill on the carpet from kids carrying a Coke. Really, it's very good."
Why Arnold?
"People have actually started to discover us," Stellar said. "We have a whole lot to offer. Once somebody comes up here once, they go home and tell their friends and bring their friends up. Then they come back up year after year. They often use the same cabin every year. It's kind of a tradition. It's actually becoming a big draw."
"If you're taking a family of five to go skiing and go to Tahoe, you spend a bundle. You can come here instead and spend a lot less."
"I think it's more beautiful here," Stellar said. "It's a beautiful easy drive from the Bay Area. The people up here are incredibly friendly. There is so much to do. From Murphys all the way up, there is so much diversity."
Blue Lakes Springs is one of the most popular rental areas because there's a lot to do within the subdivision.
"Most people are looking for the recreation areas," Stellar said. "Blue Lakes Springs is very popular because of all the activities they offer. Most families want something for their kids to do."
This popularity of the vacation rentals has led to home sales rising as well, as some vacationers want a permanent home in the scenic Highway 4 corridor.
About Cedar Creek Realty
Mountain living is a unique experience. Cedar Creek Realty's staff offers both the local knowledge and the big city expertise to handle the real estate needs of full-time residents and second homeowners from the San Francisco Bay Area. Every property has its history of ownership, slope nuances, and unique characteristics. Cedar Creek Realty combines insider perspective with extensive experience, garnered all across California, in the full range of real estate services from sales and marketing to rentals and property management.
# # #