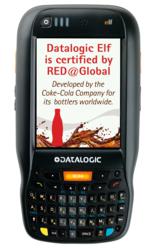 Eugene, OR (PRWEB) November 08, 2011
Datalogic Mobile, a worldwide leader in Automatic Data Capture, announces the Datalogic Elf™ professional PDA has received certification for the RED@Global software application. This application was developed by The Coca-Cola Company for its bottlers worldwide. The certification places the Elf on the list of approved devices available to be used by Coca-Cola bottlers that may use, or are considering using the RED@Global application.
Coca-Cola bottlers worldwide can take advantage of the Elf's unique feature set to increase their field employee's productivity. Some bottlers have already deployed the Datalogic Elf to their drivers. Elf has patented Green Spot technology that assures users the bar code has been read, and it has the largest battery in its class.
The Datalogic Elf™ professional PDA is designed for use outside the four walls making it ideal for direct store delivery, delivery verification, inspection, field service, and other field force applications. Only Elf has Datalogic patented Green Spot technology the projects a green spot onto a bar code when it has been read. This feature is standard on both laser and imager models. The 5000mAh Li-ion battery is standard on devices with UMTS radios and provides the extra power to keep field workers productive beyond their shift. Unlike other PDA devices, Elf ergonomics are not compromised when the high capacity battery is installed.
Elf is AT&T certified for voice and data communications giving a field force the ability to stay connected to their enterprise wherever they roam. Moreover Datalogic rugged handheld computers are not shipped outside the United States for service guaranteeing the fastest turn around on repairs.
For more information visit http://www.datalogicmobilecomputers.com/RED@Global.
# # #