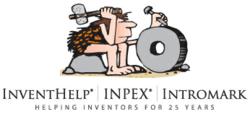 Pittsburgh, PA (PRWEB) November 09, 2011
InventHelp® released two new television ads this week featuring real-life inventors, whose inventions were licensed by InventHelp® to a leading Direct Response Television company (DRTV).
InventHelp®, known for iconic commercials featuring the prehistoric caveman chipping at the wheel, is excited to showcase its actual clients in these new commercials. The Half-Time Drill Driver, invented by Brian and Alice Jagosh, is a power tool attachment that enables the user to switch from a drill to a screwdriver, without having to change bits, in less than two seconds. This accessory can drill and countersink a hole in one step. The SideSleeper Pro, invented by Larry Cole, is a uniquely shaped pillow that supports the back and the neck and allows people to sleep on their side.
Both of these InventHelp® clients' inventions were presented to a representative at a leading DRTV company. The company expressed interest in the inventions, and agreed to license both inventions. Intromark Incorporated, InventHelp's sister licensing company, negotiated an agreement between each of the inventors and the interested company. This resulted in a DRTV campaign and ultimately placement in retail outlets.
We are pleased that we were able to get these products reviewed and licensed by a company. Both Larry Cole and Brian and Alice Jagosh have made a financial gain with their inventions. These are two individual successes. Only a very small number of inventions are licensed and sold in stores.
InventHelp® is proud of the fact that these products have been manufactured and are currently being sold across the country at retailers including Bed Bath & Beyond, Walmart, Target and Walgreens. The new 30 and 60 second spots featuring the Half-Time Drill Driver and the SlideSleeper Pro will air in markets across the country. And of course, the caveman appears on every package.
InventHelp® is America's Largest Invention Submission Company. The company attempts to submit clients' invention ideas to industry in the hope of obtaining a good faith review. For more information about InventHelp®, please call 1-800-INVENTION.
# # #