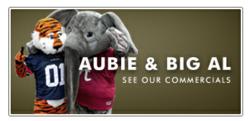 "Both Auburn and Alabama have such great traditions and fans that really support their teams. At Tiffin we've enjoyed being a supporter of both teams...." -- Tim Tiffin, General Manager
Red Bay, AL (PRWEB) November 07, 2011
As national attention focuses on the football rivalry between Auburn University and the University of Alabama, Tiffin Motorhomes is capitalizing on fan interest to market their Alabama-built motor homes.
New TV spots and web videos launch today featuring the two flagship universities' mascots, Big Al the Crimson Tide's elephant and Aubie the Auburn Tiger. The spots can be viewed on Tiffin's web site at http://www.TiffinMotorhomes.com and on YouTube.
At a time when the intensity of the rivalry has grown on talk radio and online, Tiffin takes a more light-hearted and fun approach, showing Big Al and Aubie playing pranks on each other. Tiffin family members are no strangers to the Iron Bowl rivalry as Van Tiffin (Research and Development Manager) kicked the winning field goal for Alabama to beat Auburn in 1985. Leigh Tiffin, Van's son, followed in his father's footsteps both as a kicker at Alabama and now as an employee at Tiffin Motorhomes.
According to Tim Tiffin, General Manager of the company, "Both Auburn and Alabama have such great traditions and fans that really support their teams. At Tiffin we've enjoyed being a supporter of both teams. If you go visit Auburn, Tuscaloosa and a lot of other college towns on game day, you're likely to find people tailgating in a Tiffin motor home, so featuring Big Al, Aubie and other college mascots makes a lot of sense to promote our vehicles."
Tiffin Motorhomes is a family-owned and operated manufacturer of luxury motor homes based in Red Bay, Alabama, founded in 1972. Tiffin's dealer network extends across the US and Canada, and they manufacture the Allegro, Allegro Breeze, Allegro RED, Phaeton, Allegro Bus and Zephyr product lines. Tiffin consistently earns the Quality Circle Award, presented by the RVDA in connection with its Dealer Satisfaction Index. More information on Tiffin's full line of recreational vehicles and extensive dealer network can be found at http://www.TiffinMotorhomes.com.
CONTACT:
Wayne Smith
wayne.smith(at)tiffinmotorhomes(dot)com
(256) 356 8661
###