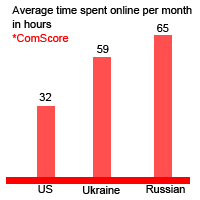 Russians spend 100 percent more time on the Internet than any other population
(PRWEB) November 08, 2011
Idea Consulting Inc felt that it was time to host such an event in the US, as Russia, in particular, although still only boasting roughly 45 percent Internet penetration, has taken to social media like no other nation, with users spending on average 100 percent more time on the Internet than any other population, according to a recent ComScore report. Since Russifying, in 2010, Facebook saw its Russian community grow by over 430 percent after it completed localization translation, and Twitter accumulated nearly 2 million users within a month after its local introduction that same year. Homegrown brands, many financed significantly by traditional media outlets, are expanding rapidly and becoming avid customers of Western media products while locally developed technologies are increasing in attractiveness to Western companies looking constantly for new and cutting edge products to provide for their customers.
Finally, and perhaps most significantly, the region is only on the verge of experiencing the birth of Smartphone applications. In countries with 80 percent plus Smartphone penetration, however, and consumers with an inherent proclivity towards technology and social media, goods and services industries are likely to be revolutionized. As such, day one of the event, entitled 'Apps Without Borders', will be dedicated to the local iPhone and Android application markets, including seminars from industry leaders on GPS/GIS technology capability and location-based marketing, on-line payment systems, taxes and legalities, cellular technology development, creation of localized, dynamic editorial, cross-platform PR and marketing, and development of on-the-ground partner networks. IDEA expects the main beneficiaries of this lecture series to be emerging, branding on-line retail discounted outlets with media and application components seeking to become internationally recognized brands.
The two-day event is to take place May 18-19 at the Liberty Hotel in Boston, Massachusetts.
The evening of day one will feature an awards dinner honoring leaders and luminaries in the Eurasian social media and technology sectors, as well as local politicians and investors who have worked to modernize regional economies through innovation in technology.
Day 2 of the event will be split in two, with the majority of the day dedicated to Social Media, an industry which has become attractive enough so as Viacom decided to co-chair, with Price Waterhouse, and Russia's Channel One, a sub-conference at this year's MIPCOM conference, dedicated to the industry, which is both producing innovative and strongly branded platforms and producing an entirely new group of companies seeking to purchase innovative and cutting edge Western content for local, cross-platform, digital distribution.
Day two will conclude with a two hour showcase of the brightest and best IDEA hand-picked media-oriented technologies and social media operations seeking investment and expansion into the West.
The summit will conclude with an open reception, where IDEA hopes that deals will be initiated, gain momentum, or even be concluded, with the help of intermediary experts if needed, thus helping to grow the tech sector in the Eurasian markets in a more effortless and efficient manner, helping media and technology creators and innovators to keep up with the pace of tech development and allow for a more rapid modernization of the Eurasian tech markets that is at once beneficial to Western counterparts.
Matthew Goldstein, President of Idea Consulting Inc, who has overseen the entry and development of a significant portion of the West's largest media conglomerates and tech operations, including Bloomberg, NAVTEQ, FOX, and Viacom into the region, said, "We are really trying to fold into this event all that makes the Eurasian, and especially Russian technology markets exciting and attractive. We want to see newer, smaller, but strongly branded Western on-line goods and service providers which have been successful in making use of both applications be able to seamlessly expand into what will be their most successful markets, before they are too late to market. We want to see wheeling and dealing between cutting edge content providers seeking to access unsaturated and solvent markets. And, we want to give Western companies the chance to learn about and hopefully incorporate and invest in the hottest regional technologies and innovative social media platforms. For this reason, we are making sure that all relevant industry leaders, with decision making powers, are on location. This summit is meant to be both a learning experience and a trade fair. In short, we think it's in everyone's interest to knock down barriers of entry and see deals get done faster and more efficiently."
Although EuraMedia will be largely an invitation-based event, 200 tickets will be made available to the public, which will go on sale in January, 2012
Idea Consulting Inc will be releasing a list of speakers for the EURAMEDIA summit, as well as announcing surrounding events, and specific lectures, on its site http://www.Ideaconsultinginc.com/Euramedia throughout the next few months.
###