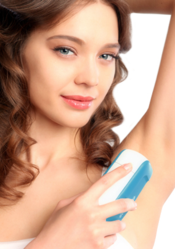 EvoDerma to Give-Away 5 LUMI™ devices at ad:tech NYC
Montreal, Canada (PRWEB) November 08, 2011
EvoDerma, a Montreal-based hair removal and skin care company, will be exhibiting a new product at the upcoming ad:tech show in New York City. The EvoDerma team will have a booth at the Javits Convention Centre to showcase the new LUMI™ Intense Pulsed Light (IPL) hair removal device. All ad:tech guests are invited to stop by booth #1738 to enter for a chance to Win-1-of-5- LUMI hair removal devices.
The Win-1-of-5-LUMI draw will end at 2 p.m. on Thursday November 10th, 2011. In order to participate, interested parties must drop off a business card before the deadline, at the EvoDerma booth. Each participant must be present at the time of draw in order to be eligible to win any of the prizes. Each winner will also be required to sign an EvoDerma Prize Release Form before receiving his or her prize. The limit is one prize per person, no purchase necessary.
The LUMI™ IPL hair removal at home from EvoDerma is the ideal choice for the consumer who is looking to achieve permanent hair reduction. This newly released hair removal system efficiently eliminates unwanted hair anywhere on the body below the neckline, providing smooth, hair free skin from the comfort of home.
Compared to expensive IPL and laser hair removal treatments in clinics and spas, LUMI™ is a cost-effective one-time investment. The advanced IPL technology used by LUMI™ is a scientifically proven method of hair removal that has been practiced in professional clinics worldwide for many years. The treatments are gentle; yet produce similar results to laser hair removal sessions.
EvoDerma's policy is to apply the highest standards at each level of production, ensuring that they deliver a quality product that will meet and exceed safety standards and reach technological excellence. LUMI™ features the industry's largest applicator tip, allowing more hair to be removed with each light pulse, all from the comfort of home.
All IPL hair removal products given away, come in a Limited Edition box set and includes:

EvoDerma LUMI™ hair removal device
Bonus LUMI IPL Protective Eyewear
Bonus full size LUMINANTE Ultra Soothing After-Treatment Lotion
As an evoDerma representative suggested: " This is a great opportunity to discover our brand new product the LUMI hair removal system. We invite all Ad:tech guests to pass by our booth and drop off their business card to enter to Win-1-of-5 Limited Edition LUMIs." For more information about EvoDerma or LUMI™, please consult http://www.evoderma.com.
About EvoDerma
EvoDerma Inc. is a company whose objective is to provide cutting-edge hair removal and skin care products for the home. Its research and development department is continuously working to provide consumers with safe, cost-effective and technically advanced products for aesthetic treatments. The LUMI™ IPL hair removal device, EvoDerma's flagship product, is a testament to the company's commitment to quality, safety and efficiency.
# # #