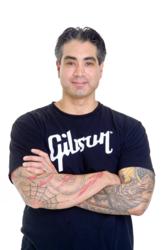 I cut thru all the confusion of approaching the guitar. I give you the tools you need to have fun and start jamming right away with songs you want to play, while at the same time teaching you the fundamental principles of the instrument.
Fort Lauderdale, Florida (PRWEB) November 08, 2011
Dyce Kimura, a consummate musician, is known as the premier Fort Lauderdale guitar teacher: both adults and kids love his teaching methods, and playing chops. That's because he plays all the great classics that adults have grown up with—as well as all the tunes that the kids are jamming on their iPods, too. Dyce's action-packed lessons get aspiring students learning real songs in no time—all while teaching them music theory and scales that connects the music to relatable, practical theory. In short, it's a hands-on way of learning the instrument that gets results.
Meanwhile, Dyce's YouTube lessons are wildly-popular. A versatile, accomplished guitarist, Dyce has a natural presence on camera, effortlessly sharing his amazing music gifts with guitar students located anywhere in the world (with an internet connection). Dyce's powerful, clear approach to the blues focuses on students, and allows them to exceed their goals—all without leaving their homes! Each one of these Fort Lauderdale guitar lessons are self-contained, yet can be used together with all of the other lessons as an empowering whole.
For any aspiring rockers, it's important to check out the blues. The blues is arguably America's greatest original art form. In fact, we hear blues in all forms of American music—including rock, pop, hip-hop, country, folk, rap, punk, funk, jazz, and more. Blues is in on our radios, TV theme songs, jingles and movie soundtracks, cell phone ringtones, and internet—to name just a few! The blue is America's heartbeat, and any guitarist who is serious about learning their instrument needs to get some blues chops under their belt.
Dyce's career has been taking off. Besides offering Fort Lauderdale guitar lessons, he is launching a full video series, for both download and DVD. These videos, like Dyce's YouTube lessons, slice thru all the confusion that comes with approaching the guitar. Dyce's warm, personable teaching provides aspiring guitarists with all the tools they need to have fun and start jamming right away with songs that they want to play—all while learning the fundamentals of guitar and blues, the right way.
Only a few years ago, it would have meant making a trip to Florida to receive Fort Lauderdale guitar lessons from renowned pro Dyce Kimura. Now, due to the power of YouTube, Dyce's great blues guitar lessons are available to anyone, anywhere.
For more information visit http://www.youtube.com/dycekimura.
###