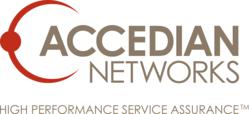 This represents the next-step in High Performance Service Assurance; enabling service providers to take control of per-application performance across the cloud
New York, NY (PRWEB) November 08, 2011
Accedian Networks™—the number one provider of High Performance Service Assurance™ solutions for Carrier Ethernet networks—introduces the V-NID™ suite of application-oriented performance assurance tools. The V-NID solution extends Accedian's industry-leading Ethernet OAM-based performance assurance—featuring the industry's most accurate one-way delay measurement technology and per-second performance monitoring—with a system that assures end-user experience of specific applications by mimicking them across the network. The V-NID application-level performance assurance solution expands Accedian's product offering by providing service providers more application-focused insight than can be provided by traditional OAM solutions, while still leveraging Accedian's High Performance Service Assurance technology.
At the heart of the solution is the V-NID Actuator which sends emulated traffic to V-NID agents located in Accedian's MetroNID®, MetroNODE 10GE™, or other network element. Using a patented, high-accuracy one-way delay measurement technique, the V-NID Actuator can also assure the performance of specific applications without requiring synchronized hardware test points at each end of the connection. The V-NID Actuator gathers Ethernet OAM, as well as application-specific performance data which is then summarized and displayed by VisionAnalyzer™ in a visual performance monitoring dashboard. A centralized approach enables the V-NID Actuator located in the core of the network to remotely assure end-to-end performance by communicating with the V-NID agents residing at the edge.
"While today Accedian NIDs complement the OAM capability of many of the industry's leading network elements and provide the industry's most accurate performance assurance tools, our new V-NID solution provides application-specific performance assurance capabilities required to quantify the end-user's experience," said Patrick Ostiguy, President and CEO of Accedian. "This represents the next-step in High Performance Service Assurance; enabling service providers to take control of per-application performance across the cloud."
The V-NID Suite consists of: the V-NID, an embedded application performance monitoring agent which is implemented in the Accedian MetroNID and MetroNODE 10GE High Performance Service Assurance platform as well as other network elements; the V-NID Actuator, which sends and receives active performance assurance messages to and from the V-NIDs; the V-NID Manager which manages configuration and collects raw performance data; and VisionAnalyzer™, a software tool summarizing and creating dashboard reports of per-flow performance.
About Accedian Networks
Founded in 2004, Accedian Networks™ is an industry-leading provider of High Performance Service Assurance™ solutions for Carrier Ethernet and IP networks. Today, the Company is the number one provider of performance assurance solutions for Carrier Ethernet backhaul networks in North America with an installed base of over 75,000 cell sites, and 90,000 platforms sold worldwide. The Company's hardware-based EtherNID®, MetroNID® and MetroNODE 10GE™ demarcation and OAM aggregation devices provide service creation and high-speed, high-performance service assurance for Ethernet business, wholesale access, and carrier exchange services. These purpose built service demarcation devices—which far outperform more costly switches, routers and test equipment— enable service providers to establish end-to-end, standards-based OAM over converged multi-technology and multi-provider networks, with value-added services backed by assured SLAs. Accedian's platform is deployed by a global customer base that includes telecommunications providers, cable MSOs and mobile operators offering carrier-grade Ethernet platforms. A privately held company, Accedian Networks is headquartered in Montreal, Canada, with regional offices in the U.S., Europe, Latin America, Middle East and Asia. For additional information, please visit: http://www.accedian.com or call 1-866-685-8181or +1 (514) 331-6181.
###