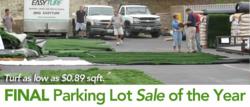 This Parking Lot Sale provides 'do-it-yourself' homeowners with direct access to our landscape products
Vista, Calif. (PRWEB) November 08, 2011
The last EasyTurf Parking Lot Sale of the year is scheduled for November 10, 11 &12 offering customers exclusive pricing on superior synthetic grass.
Leftover, remnant turf will be on sale for as low as $0.89 per square foot as well as discounted turf off-the-roll. The EasyTurf Parking Lot Sale presents an opportunity for do-it-yourselfers and contractors to purchase turf at unbelievable prices for a limited time. EasyTurf will also be offering discounts on installation services, restrictions may apply.
"Offering remnant pieces to the public gives customers access to our industry leading synthetic grass at a ridiculously low cost," said EasyTurf President David Hartman. "This Parking Lot Sale provides 'do-it-yourself' homeowners with direct access to our landscape products."
The Parking Lot sale will take place at EasyTurf's headquarters at 2750 La Mirada Drive, Vista, Calif. A 1,600 square foot showroom highlights various synthetic grass applications from lawns to putting greens. Customers can see and feel the product and consult with the EasyTurf sales staff in a friendly environment.
Doors are scheduled to open at 9 a.m. and close at 4 p.m. daily during the event.
For more information on the parking lot sale and showroom visit http://www.easyturf.com/sale.
###