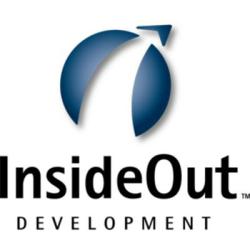 Salt Lake City, UT (PRWEB) November 08, 2011
InsideOut Development (IOD), a professional services firm, has released the newest edition of our performance program, InsideOut Coaching. Taking our widely popular workshop, IOD evolved it into a powerful performance process. This best-in-class workplace coaching program gives leaders the tools to tap into the full breadth of talent and experience that already exists in each employee to deliver performance breakthroughs.
InsideOut Coaching is based on the premise that performance comes from inside people. Designed for a broad audience of senior, mid-level and front line managers, IO Coaching equips leaders with easy-to-use coaching tools that unlock the full capabilities of their teams. The program focuses on two primary elements 1) Understanding human performance and how to influence it and 2) Learning and practicing a process for holding effective coaching conversations.
This coaching system was designed as an integrated, three-phase process that engages participants quickly with pragmatic concepts and tools, ensuring a high adoption of coaching back in the workplace.
Preparation:Participants are provided context for what coaching is, how this program connects to their performance goals and strategies, and are asked to collect feedback on their own coaching performance that will be used during the workshop.
Actionable Classroom Learning: A stream-lined workshop design gets participants into action quickly through interactive discussions, exercises, and "real"-plays, applying InsideOut Coaching to actual coaching challenges. Learning time is balanced with practice and planning time, and significant efforts are made to connect the managers' coaching to "real" world applications.
Workplace Application: To support frequent and impactful coaching activity in the workplace and the breakthroughs that come with it, InsideOut Coaching includes a robust set of online follow-up tools. This includes an easy-to-use system which tracks how managers are coaching their employees on critical performance goals. This tool leverages the power of peer support as well as reinforces visibility by, and involvement of, the participant's manager.
This expanded approach provides companies with a strong platform to get more leaders, coaching more often, for more impact.
"Business leaders today are challenged to deliver results and results happen through people," said Kim Capps, CEO at InsideOut Development. "Leaders coaching often and well, is key to influencing performance. That is why we have developed InsideOut Coaching, a solution that will ensure performance breakthroughs."
For more information about IO Coaching please visit http://www.iocimpact.com.
About InsideOut Development
InsideOut Development is a professional services firm that provides learning, coaching, and consultative solutions to a large, global clientele. The company, recognized as a leader in developing manager-as-coach skills, trains tens of thousands of people annually using the GROW model and other innovative tools and programs developed by Alan Fine and the InsideOut Development team. The company also provides instructional certification and has certified thousands of facilitators in its program offerings. The organization's products and services have been used by hundreds of business industry leaders and many of the Fortune 500. Visit http://www.insideoutdev.com or follow us on LinkedIn and Facebook.
Media Contact:
Jacques Bazinet
801-770-0113
jacquesbazinet(at)insideoutdev(dot)com
This press release was distributed through PR Web by Human Resources Marketer (HR Marketer: http://www.HRmarketer.com) on behalf of the company listed above.
###