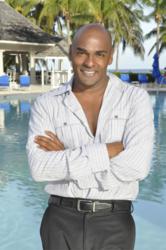 Rose Hall, Jamaica (PRWEB) November 07, 2011
Raj Jackson performed tennis clinics at the Ritz Carlton in Rose Hall, Jamaica from October 16-30, 2011. Raj is an USPTA international tennis pro and celebrity golf entertainer. He gave tennis lessons at the Ritz for the hotels guests which included CEO's, Celebrity's & other prominent successful business people.
Due high demand for tennis at these upscale resorts, Raj Jackson has created a new tennis DVD-from Beginner to Winner and it can be purchased at his website. The DVD is combines great tennis fundamentals and tips to make anybody a great player.
Raj Jackson was trained at the IMG Nick Bollettieri Tennis Acadmeny in Bradenton, Florida which has previously trained 9 former #1 players in the world including Andre Agassi, Jim Courier, Martina Hingis, Monica Seles, the Williams sisters and Maria Sharapova.
Raj Jackson teaches at the world's elite at 5 star hotels around the world.
When he is not teaching tennis, Raj is a golf entertainer.
He is a master golf teaching professional that has given over 15,000 golf lessons.
His resume is quite impressive for he served as the Head Golf Pro at Woodbridge Golf Club and Richmond Pines Country Club in North Carolina. Raj also took his talent on the seas, as the Head Golf Pro for some of the biggest cruise ships in the world such as Carnival, Holland America, Celebrity and P&O cruise lines. He took all his experience and created the most exciting golf show in the world. His signature show is called Make Par Like A Star and mixes golf instruction, celebrity impersonations, dancing, singing and tons of entertainment. Raj performs his golf show at various celebrity events, golf tournaments and private functions.
Whether you get a world-class tennis lesson from Raj or whether he teaches you the secret to the golf swing while performing on the stage, there is no denying Raj Jackson has got talent.
###