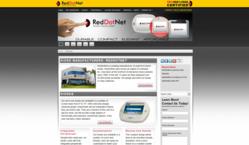 Vista,CA (PRWEB) November 08, 2011
RedDotNet is pleased to announce the release of its new expanded website at http://www.reddotnet.com.
The new site describes the wide range of small form factor kiosks with fully integrated peripherals, manufactured by RedDotNet. Also included is a description of the custom kiosk solutions and kiosk management services RedDotNet provides.
The site also features a new section entitled "Why RedDotNet" which details the benefits of a RedDotNet solution.
RedDotNet is a leading US manufacturer of interactive kiosks. RedDotNet is ISO 9001:2008 certified, and has been building quality kiosks in Vista, CA since 1998.
###