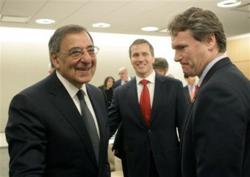 "In the military, your job is about the mission, the people you have the opportunity to serve alongside, and a sense of responsibility to your country. This ethic transfers to the workplace."
Saint Louis, Missouri (PRWEB) November 07, 2011
The Mission Continues CEO Eric Greitens, today joined Defense Secretary Leon Panetta, Goldman Sachs CEO Lloyd Blankfein and other corporate leaders in New York City to discuss the challenges and opportunities facing post-9/11 veterans as they transition out of the military and into civilian jobs.
Secretary Panetta focused on the strengths he sees in the men and women serving in the military today and the contributions the five million who have served since 9/11 are poised to make in communities across the country.
The conversation between these leaders is taking place at a time when the jobless rate among veterans is growing, as is the size of the overall veteran population. According to newly updated data from the Bureau of Labor Statistics, veterans who left military service in the past decade have an unemployment rate of 11.7 percent, well above the overall national jobless rate of 9.1 percent.
Goldman Sachs Gives, the firm's donor-advised fund, last December announced a $20 million, five year commitment to support organizations working to reintegrate returning, wounded veterans into the civilian workforce as well as organizations providing support for military families. Earlier this year, Goldman Sachs Gives gave $6 million to The Mission Continues to scale the national nonprofit's programming.
"Our country owes a great deal to the thousands of men and women returning to civilian life from the armed forces," said Lloyd C. Blankfein, Chairman and CEO of The Goldman Sachs Group, Inc. "Veterans have the experience and abilities to help our economy grow, and the business community is focused on helping them to find the jobs and opportunities that employ their skills."
Charles Hernandez, Mission Continues Fellow and wounded Army veteran, spoke about his struggle to find purpose after losing his job, and how his Mission Continues Fellowship filled that void in his life. "I was forced to retire from the city of New York department of education under a medical retirement disability. So not only was I shut out from the military, I was also shut out from employment," said Hernandez. "However, through my fellowship with ECAD [East Coast Assistance Dogs], I felt I was lucky to be a part of an amazing teaching method; the curriculum could not be better a vocational trade."
Eric Greitens, Navy SEAL and CEO of The Mission Continues, highlighted that ensuring veterans have an opportunity to reconnect to their communities and a sense of purpose produces greater employment stability for veterans. "This generation of veterans doesn't simply view a job as a paycheck," Greitens said. "In the military, your job is about the mission, the people you have the opportunity to serve alongside, and a sense of responsibility to your country. This ethic transfers to the workplace."
Mission Continues Fellow and Army veteran Josh Eckhoff was drawn to The Mission Continues because of its focus on rebuilding purpose, which frequently translates into highly rewarding employment. For Eckhoff, he hopes that his Mission Continues Fellowship will help him build experience and relationship that will eventually help him achieve his career goal of becoming a teacher. "After my separation from the military, my desire continued to serve my country, and my fellowship opportunity was a great chance to give back post-military," said Eckhoff. "Now that I cannot ensure the future of our nation by defending it, my aim is to ensure that future generations are educated enough to make smart decisions to sustain the greatness of this nation."
About The Mission Continues
The Mission Continues is a national nonprofit organization that has committed to transform the lives of post-9/11 veterans by challenging them to serve again as civilians. Founded in 2007 when Navy SEAL Eric Greitens returned from Iraq, the organization offers paid service fellowships to veterans, awarding nearly 200 fellowships in 30 states to date. The Mission Continues is reshaping the way this country welcomes home our veterans by showing that these men and women are tremendous assets whose leadership and skills can be vital to their community's improvement. For more information, please visit http://www.missioncontinues.org.
###