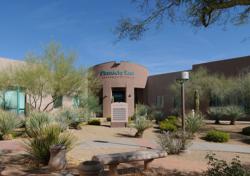 Scottsdale, AZ (PRWEB) November 08, 2011
Paradigm Real Estate Solutions is happy to announce an upcoming sale event for Pinnacle East Corporate Center, a recently renovated office building at the intersection of East Pinnacle Peak and Pima Road in north Scottsdale. The corporate center is adjacent to the Desert Village Shopping Center, has covered parking, and is close to Starbucks, several banks, fine dining, Scottsdale Municipal Airport and the Pinnacle Peak Country Club and Golf Course. Built in 1999, the Class B, single story building is currently 70% leased, has first class common areas, and provides an amazing value as an investment property or as an owner-user office space.
With an opening bid of $1,395,000 (just $82 per square foot), Pinnacle Corporate Center offers a great opportunity for buyers looking to invest in an easily accessible, high traffic Scottsdale location. The sealed bid auction requires no buyers premium, welcomes brokers, and financing is also available.
Considered an important urban hub in the state of Arizona, Scottsdale is located in Maricopa County in the heart of the Sonoran Desert. The vibrant downtown area boasts over 320 retail stores, over 90 restaurants, and a strong Economic Vitality Program that promotes commerce and growth throughout the Scottsdale area. The city of Scottsdale wins several awards annually including ranking 4th in Business Week's Top 25 Fun and Affordable Cities (August 2011), ranking on RelocateAmerica's Top Places to Live Report (June 2011), and many more. The city also maintains a AAA Credit Score.
Pinnacle East Corporate Center has over 17,000 square feet of rentable space on a lot of approximately 1.68 acres, and has a parking ratio of 3.30/1000. To see property highlights and access sealed bid documents, please visit the website at http://www.AuctionArizonaCommercial.com. For questions or to set up a tour contact Joe Holeva, Praedium Advisors, Inc. (Broker), at (602) 466-2325 or email info(at)auctionarizonacommercial(dot)com
About Paradigm Real Estate Solutions
Paradigm Real Estate Solutions is a full service national Real Estate Sales and Marketing firm leveraging its proprietary technology platform Marketing Success Portal® to deliver the next generation of real estate solutions for homebuilders, developers and financial institutions. Paradigm Real Estate Solutions' provides market research, proprietary web based technology and internet-centric methods. For more information visit http://www.ParadigmIntel.com.
###