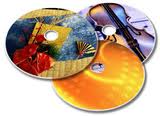 It has come down to the difference between making money from your music or not!
Los Angeles, CA (PRWEB) November 09, 2011
Cheap CD Duplications marks their milestone of 1,000,000 printed CD's. To celebrate, the Los Angeles based CD Printing Company, now offers free tips and tricks in music promotion to help independent musicians make a living with their art.
Independent musicians, artists, & corporations from around the country are continuing to use CD printing and DVD duplication at a steady pace for promotional as well as monetary reasons.
Some of the biggest artists today such as Maroon 5, Snoop Dogg, & Taylor Swift continue to sell CD albums by the millions, while some independent artist find it difficult to get distribution and make a living with their music.
According to Cheap CD Duplications President David Gersh, it has come down to the difference between making money from your music or not. There are many musicians & artists out there now that are making their living off of the sale of their music on CD's by selling them at their shows.
"When the artist themselves can purchase a professionally replicated CD for less than a dollar then turn around and sell it at their show for ten dollars you really don't have to sell that many to walk away with a nice little chunk of change. So far this year we have seen a lot of independent artists such as Gospel singer Maurice Griffen, Hispanic artist El Chapo, and even music icon Pat Boone place large orders with us in the tens of thousands," added Gersh.
Paul Grein, who writes the "Chart Watch" column for Yahoo.com states, "I think it's becoming less of a mass-market item and kind of a niche product that caters to a small but loyal following."
Despite the economic downturn, sales for CD Replication and CD printing are up significantly up over last year for Cheap CD Duplications. They will continue to service independent artists from across the country who need a way to promote and sell their music.
Although the company offers CD printing to national companies and artist, Cheap CD Duplications services many local Los Angeles based companies and artist with high quality inexpensive CD duplication Los Angeles. Their website now offers articles and blogs that will help educate artists on what might be the right product to fit their budget and look.
About Cheap CD Duplications:
Cheap CD Duplications was founded in 2005 to provide musicians, filmmakers, and corporations with a wide choice of affordable professional media duplication and packaging products.
The company is headquartered in Simi Valley, California with its principal manufacturing facility located in Los Angeles, California. Visit http://www.cheapcdduplications.com or call 1.800.836.7962
Editorial Contact:
Loren Branton
Online Media Reach
1.888.276.4239
###