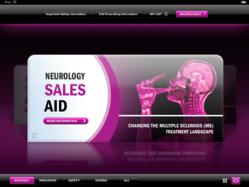 More and more of our clients are interested in making the iPad a key part of their digital strategy by leveraging the distinctive capabilities the device has to offer
San Francisco, CA (PRWEB) November 10, 2011
As many now know, the Apple® iPad™ has been one of the most successful consumer electronics product launches in history with 28.7 MM units sold since its introduction in April 2010. (1) In fact, Apple has recently claimed over a 90 percent market share in tablet devices.(2)
Equally impressive has been the strong adoption of this new device technology by physicians, and within the life sciences industry overall. According to a May 2011 study by Manhattan Research, just one year after the iPad first hit the market, adoption reached 30 percent of U.S. physicians, with an additional 28 percent planning to purchase an iPad within the next six months. (3) Moreover, 75percent of US physicians now own some type of Apple device such as an iPad, iPhone or iPod.(4)
Whether the iPad is being used for doctor-to-patient, doctor-to-doctor, or sales rep-to-doctor interactions, these tablet devices seem poised to create a transformation in healthcare communications. Over the past year, Viscira has seen a significant increase in business coming from their development of iPad solutions for their clients.
Viscira™, a leading provider of interactive, new-media and technology solutions for the life sciences industry, is helping leading pharma and biotech companies capitalize on this growing trend. The company is fully leveraging its industry knowledge, creative design skills, video and animation production capabilities and software programming expertise to develop a wide array of innovative, immersive applications for the iPad and other mobile devices including:

Dynamic interactive sales aids for the pharma field force
Rich product education applications for medical science liaisons (MSLs)
Engaging training modules for sales staff and other internal personnel
Enhanced presentation delivery platforms for physician key opinion leaders (KOLs)
Interactive treatment algorithms and product dosing calculators for healthcare professionals (HCPs)
User-friendly disease management and medication adherence tools for patients and caregivers
In addition, the company can optimize nearly all of its web-based solutions for iPad use including product and disease education websites, 3D animations, enhanced KOL videos, interactive case studies and patient videos.
"More and more of our clients are interested in making the iPad a key part of their digital strategy by leveraging the distinctive capabilities the device has to offer," explains Dave Gulezian, President & CEO of Viscira. "Viscira is uniquely positioned to maximize the potential of this tool by seamlessly integrating many forms of dynamic content including 3D animation, video, motion graphics, high-resolution imagery, etc. in innovative ways. The iPad is the perfect mobile platform to deliver our diverse capabilities to enhance message impact and deliver business results for clients."
About Viscira
Viscira is dedicated to the design and development of new-media communication solutions and interactive software applications for the life sciences industry. Viscira provides a suite of programs that provide best-in-class technology solutions to deliver engaging and memorable content via various electronic channels. For more information, please visit the company's website at http://www.viscira.com or contact Noёl Ashekian at (617) 429-0834.
(1)Source: Wall Street Journal 8/12/11
(2)Source: Apple Claim - Wall Street Journal 8/12/11
(3)Source: Manhattan Research – Taking the Pulse U.S. v11.0
(4)Source: Manhattan Research – Taking the Pulse U.S. v11.0
Press Contact
Noёl Ashekian
Marketing Communications Manager - Viscira
Phone: (617) 429-0834
Email: nashekian(at)viscira(dot)com
###