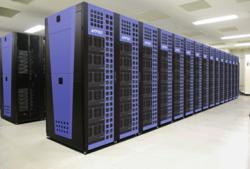 We are extremely pleased to work with Lockheed Martin once again and be part of providing advanced supercomputing expertise to support the DoD High Performance Computing Modernization Program (HPCMP)," said Steve Lyness, Vice President of HPC Solutions
Milpitas, CA (PRWEB) November 09, 2011
Appro (http://www.appro.com), a leading provider of supercomputing solutions, today announced that it has been awarded a subcontract for a 303.23TF Appro Xtreme-X™ Supercomputer for the second time by Lockheed Martin in support of the DoD High Performance Computing Modernization Program (HPCMP). The HPCMP supports DoD objectives to strengthen national prominence by advancing critical technologies and expertise through use of High Performance Computing (HPC).
This represents a multi-million dollars award for a hybrid computing system and will be deployed to ARL, US Army Research Laboratory. As a subcontractor, Appro will provide system integration, project management and onsite installation. Lockheed Martin, as the prime contractor will provide on-site maintenance and administration support. The Xtreme-X™ Supercomputer will be used by ARL for mobile ad hoc network (MANET) emulation and experimentation.
"We are extremely pleased to work with Lockheed Martin once again and be part of providing advanced supercomputing expertise to support the DoD High Performance Computing Modernization Program (HPCMP)," said Steve Lyness, Vice President of HPC Solutions Group for Appro. "Lockheed Martin leads its industry in innovation and has raised the bar for reducing costs while enhancing product quality for this important government program, and Appro Xtreme-X Supercomputer has the ideal design to meet their requirements."
The Appro Xtreme-X™ Supercomputer consists of 274 nodes with two processors per socket with a total of 6,576 cores based on the new AMD "Interlagos" processor and 204,288 cores based on NVIDIA® Tesla™ GPU computing. This hybrid system is configured with Appro ACE Management nodes, sub-management nodes, NFS storage server, CPU only compute nodes, login nodes and CPU+GPU compute nodes. The system is supported by large memory for improved overall performance and faster simulation results. As configured and deployed, the entire system provides 303.23Tflops aggregate peak performance with 234.84Tflops powered by graphic nodes and a usable memory capacity bandwidth of more than 17.54 Terabytes. The Appro Xtreme-X also offers a bridge directly to a global parallel file system allowing access to the storage file system from all of the compute nodes. All compute and graphic nodes in the system are to be interconnected by a single-rail 10GigE interconnect to meet the customer's needs for low latency and multicast capabilities with easy cable installation and management. The system is designed to optimize floor space, power, and cooling requirements using air-cooling technology with platinum-rated power supplies and high-efficient fans, integrated with console management server capabilities. The Appro Xtreme-X Supercomputer will also be pre-configured with Appro's HPC Software Stack to include open source development tools and Appro Cluster Engine™ (ACE) remote management suite which will provide server, cluster, storage and network management features running on Red Hat Enterprise Linux.
The Appro Xtreme-X Supercomputer will be factory integrated by Appro's turn-key System Delivery Integration Services to include on-site installation and premium support services for advance parts replacement.
"AMD is excited to collaborate with Appro on the Xtreme-X Supercomputer solution that Lockheed Martin has chosen as the foundation for this deployment," said Paul Struhsaker, corporate vice president and general manager, Commercial Business at AMD. "The core-dense AMD processor codenamed "Interlagos" is optimized for performance, scalability and efficiency for high performance computing applications that will allow customers like Lockheed Martin to improve supercomputing capabilities."
About Appro
Appro is a leading developer of innovative supercomputing solutions. Appro is uniquely positioned to support High-Performance Computing (HPC) markets focusing on medium to large-scale deployments where lower total cost of ownership is essential. Appro accelerates technical applications and business results through outstanding price/performance, power efficient and fast time-to-market solutions based on the latest open standards technologies, innovative cluster tools and management software packaged with HPC professional services and support.
Appro supercomputing solutions enables scientists and engineers to use data-intensive, capacity, capability and hybrid computing for scientific research, data modeling, engineering simulations, and seismic visualization. Appro's headquarters is located in Milpitas, CA with offices in Korea, Japan and Houston, TX. To receive automatic Appro news and feature stories, subscribe to Appro RSS feeds at http://www.appro.com, also visit us on Facebook at http://www.facebook.com/ApproSupercomputers or interact with us at http://twitter.com/approhpc.
###