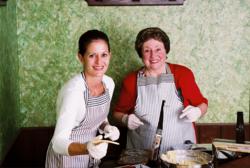 One of the oldest known cookies, pizzelle are to this day associated with happy occasions.
Philadelphia, PA (PRWEB) November 08, 2011
BellaPizzelle, one of the few companies that hand-bakes pizzelle and ships them all over the United States, is marking its 10th anniversary creating these traditional, decorative cookies that have long been a staple of celebrations. Comprised of an 87-year-old off-the-boat Italian woman and her first-generation American daughter, BellaPizzelle bakes pizzelle two at a time using an old country recipe.
These traditional flat cookies, made on intricate irons often bearing the pattern of snowflakes or flower blossoms, make an outstanding addition to traditional holiday fare. One of the oldest known cookies – it's believed they were first served six centuries ago to celebrate the expulsion of snakes from an Italian village – pizzelle are to this day associated with happy occasions.
This time of year, pizzelle add pizzazz to the holiday dessert table, and make a great hostess gift that will stand out from the usual poinsettias, bottle of wine or Baileys Irish Cream.
"Pizzelle are a fabulous cookie for entertaining or giving if you want to make a good impression. But if you give the store-bought, mass-produced kind, they'll have the opposite effect," says BellaPizzelle's founder and chef Denise Williams. Together with her mother, Lucy DiNorscia, Williams can often be found running as many as a dozen irons into the early morning hours to fulfill the rush of holiday orders.
Pizzelle traditionally are flavored with anise or vanilla, but other varieties include chocolate chip or a hint of orange. "We frequently add a shot of whiskey or Frangelica to the recipe, or combine green and red jimmies in the batter for a wonderful holiday starburst of color," Williams says. About 50 percent of her orders request that "extra shot," she adds.
BellaPizzelle translates to "beautiful cookie," and it's their distinctive appearance that makes them so welcome at celebrations. In addition to flower blossoms, snowflakes and other patterns, centuries ago pizzelle sometimes bore the imprint of a family crest. These custom-made irons are sought-after antiques.
Since these wafer-like cookies are so fragile, great care is required when shipping them. Williams ships her creations coast to coast from a commercial-grade kitchen in rural Berks County, Pennsylvania, so the packaging has to be up to the task. She experimented with dozens of containers before finding a method that ensured no breakage. The heavy cardboard cylinders she settled on also happen to be available in festive gold or red foil, and a red ribbon can be added.
Which isn't to say people won't break the pizzelle intentionally when they arrive at their final destination.
"Broken pizzelle pieces can be used on top of ice cream, inserted into cake or pie, drizzled with chocolate sauce or topped with a smear of jam, hazelnut spread or any other sweet ingredient," Williams notes.
Broken or round and intact, pizzelle offer a sweet way to ring in the holidays, one that'll be far more welcome than a fruitcake.
Pizzelle Serving Suggestions from http://www.BellaPizzelle.com:

Once cooled, sprinkle with powder sugar and enjoy with a hot cup of espresso, cappuccino or regular cup of coffee.
Break up crunchy pizzelle and crumble over your favorite ice cream. Drizzle with hot fudge.
Make ice cream sandwiches by filling pizzelle, two at a time, with vanilla, chocolate or Neopolitan ice cream. Wrap individually, tightly, and store in the freezer.
Break pizzelle in half evenly. Insert into top of cheesecake or ice cream scoop -- or on top of an iced cake with a dollop of fresh whipped cream.
Serve flat on a dessert dish, with sides of fresh whipped cream and fresh fruit (strawberries, blueberries or raspberries.)
For a unique treat, add pizzelle to Sweet Ricotta with chocolate:

Sweet Ricotta with Chocolate
2 pounds ricotta cheese
¼ cup sugar
½ cup semisweet mini chocolate morsels or coarsely chopped semisweet chocolate (about 2 - ½ ounces)
¼ cup chopped candied fruit
10 pizzelles
Put ricotta in a large fine sieve set over a large bowl; let drain 20 minutes. Discard liquid. Transfer ricotta to a serving bowl. Stir in sugar until smooth. Fold in chocolate. Ricotta mixture can be refrigerated, covered, up to 8 hours. Stir in candied fruit. Serve with pizzelle and fresh grapes and peaches.
Pizzelle Facts

Pizzelle were first baked in the Abruzzo area of Italy several centuries ago, making them one of the oldest cookies.
It is widely believed pizzelle debuted at the village of Colcullo during the Festival of the Snakes, when villagers celebrated a divine intervention that helped them expel the serpents overrunning the town.
Families often baked pizzelle in unique irons bearing the family crest, initials or other designs.
Early pizzelle irons are sought-after antiques and were originally designed to make one pizzelle over a gas stove.
For many Italians, pizzelle are an essential element of any feast or festive occasion.
BellaPizzelle hand bakes all of their pizzelle to order, two at a time, and ships them all over the country.
Source: http://www.BellaPizzelle.com
###