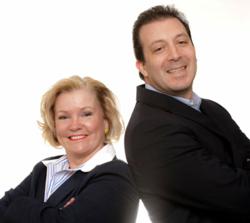 Atlanta, GA (PRWEB) November 08, 2011
The Pedowitz Group (TPG), the world's largest and most experienced revenue marketing agency, announced today that Jeff Pedowitz, President and CEO and Debbie Qaqish, a principal partner and Chief Revenue Marketing Officer of the firm, have been nominated for the 50 Most Influential People in Sales Lead Management.
Vote here: http://www.salesleadmgmtassn.com/50most2011/top50_vote.htm
An entrepreneur, Jeff founded The Pedowitz Group in 2007 and is regarded as an expert, thought leader and innovator in demand generation. Last year he earned SLMA's Top 50 Most Influential Award. Every day, Jeff brings his business acumen to bear for clients who are seeking to build a repeatable, predictable, and sustainable revenue stream from their marketing initiatives.
Debbie is a nationally recognized speaker, and one of the "Top 20 Women to Watch in Sales Lead Management." She has 30+ years experience applying strategy, technology and process to help B2B companies drive revenue growth. Debbie hosts Revenue Marketer Radio (WRMR) where she interviews Revenue Marketers® who deliver measurable value to their organizations.
"Jeff and Debbie's nominations are well-deserved. Having two of our top executives in this field of nominees speaks to the deep knowledge and experience we offer our clients," said Bruce Culbert, principal partner and Chief Services Officer of The Pedowitz Group. "When it comes to delivering the best people, processes, and technologies to solve today's most complex lead management challenges, Jeff and Debbie are already winners."
Voting for the 50 Most Influential People in SLMA is open to SLMA members and non-members (through November 30). The winners will be announced on December 5, 2011.
The Pedowitz Group - Connect Marketing to RevenueTM
The Pedowitz Group (TPG) is the world's largest full-service revenue marketing agency. With a focus on delivering Marketing and Sales automation solutions, TPG drives sustainable revenue and return on investment for global clients. TPG helps clients create and execute demand generation strategies and tactics that generate top line revenue. TPG coined the phrase Revenue Marketer® in 2009 and it is now a registered trademark of the company. Services include strategy, program design, system selection, implementation, integration, creative services and outsourced demand generation. Customers include such industry leaders as Comcast, Deutsche Bank, Intel and Palace Sports and Entertainment. For more information on how TPG helps clients become successful Revenue Marketers®, please visit http://www.pedowitzgroup.com or blog.pedowitzgroup.com.
###